Every December, I spend weeks baking. I make my way through a list of cookie recipes, sometimes baking one kind or another more than once. The cookies don't sit around to be eaten, though—I hurry them into an array of colorful tin boxes. There they sit until Christmas break begins, when the children are out of school and the visits with relatives commence, with ample conversation and hours are spent reading by the fireplace. That's when the tins come out.
For about a week, the cookie tins sit on the counter, side by side, closed each night and opened again the next day. As the days go by we whittle down the cookie supply until it finally disappears. Then the tins are packed up and put away in the attic, in anticipation of the next December.
I do this because my mother did this. I watched her, every year. Once I was big enough, I helped. I baked cookies by her side, and packed them away in tins. This ritual is a family tradition. It's a part of the holiday. It says Christmas.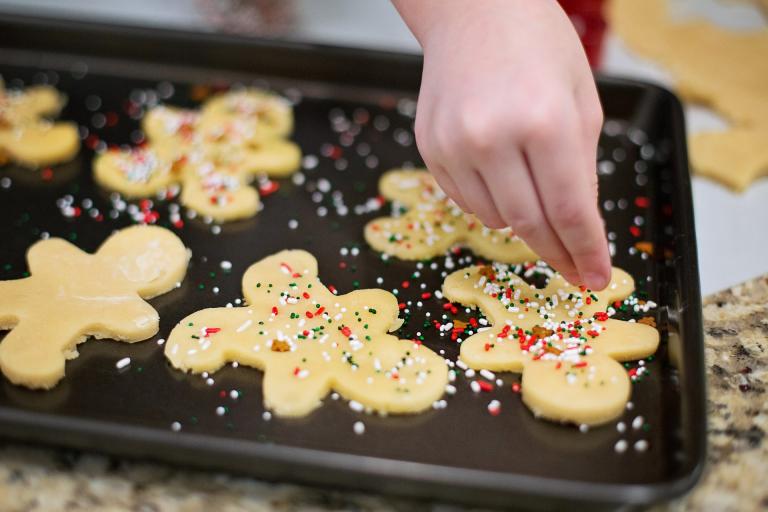 I've spent a lot of time, this December, musing on the cookies. Understanding why requires a bit of backstory.
I grew up in an evangelical home. We attended a "Bible-believing" church every week. I was homeschooled. In college, I converted to Catholicism, leaving evangelicalism behind, much to my parents' consternation. Then, some years later, I stopped attending church altogether. Over the years, religious divide has created problems with my parents.
As a religious system, Protestantism centers belief, not ritual or practice. Whether you go through the motions—whatever those motions may be—does not matter if you do not have belief. Not every religion is like this. In some religions, what matters is how you cook and prepare your food, which candles you light, what incense you burn. Some religions are about practice more than they are about belief. But not Protestantism, and my parents are Protestant.
It doesn't matter whether I bake the cookies just so, whether I go Christmas caroling, or whether I attend Christmas Eve services. These things are rituals—shared practices—but for Protestants, it is
belief
that matters. If I don't believe that there is one God in three parts, that sin separates man from God, and that God the Father sent God the Son to earth to pay the price for man's sin, what I do doesn't matter. I don't belong, simply by version of not having belief.
I feel angry, sometimes, at the divide religion creates in my extended family. I wish it didn't matter. I wish we could bond over shared rituals and leave it at that. I wish what people believe about the afterlife were considered personal—their own individual journey, without coercion or expectation. I'm tired of the lines drawn around belonging.
And that, perhaps, is why I bake cookies every December and pack them away in tins. The things I can do, I want to do. I never set out to create a rent. I never set out to make hurt. I only wanted my mind to be free. I never had a problem with the cookies. In some sense, the cookies are a statement of good will. They offer me a way I can signal that I value being part of this family. The cookies are my way of reaching out, of extending a hand.
That's a lot to pack in a tin full of cookies.
I have a Patreon! Please support my writing!