Purity culture. Purity culture everywhere.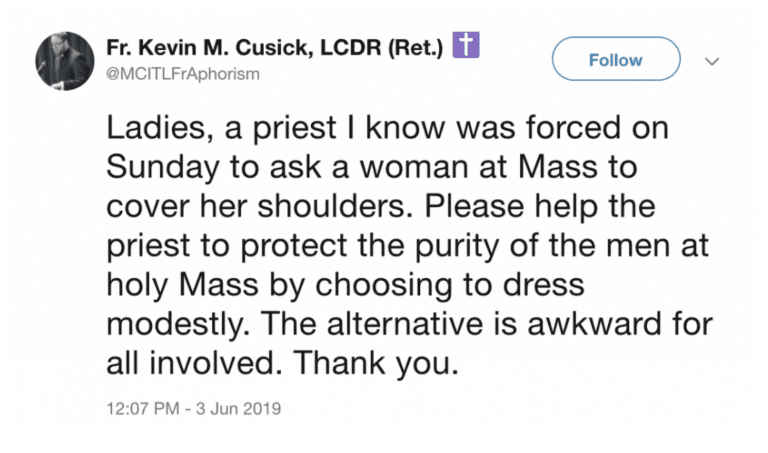 "Ladies, a priest I know was forced on Sunday to ask a woman at Mass to cover her shoulders," the tweet by Fr. Kevin M. Cusick reads. "Please help the priest to protect the purity of the men at holy Mass by choosing to dress modestly. The alternative is awkward for all involved. Thank you."
Let's take it from the top, shall we?
We'll start with perhaps the most important words in this tweet: was forced. Cusick's priest friend was forced to ask a woman at Mass to cover her shoulders. But who did the forcing, exactly? Who made Cusick's priest friend tell this woman to cover her shoulders? The answer is no one. No one made him. Cusick's priest friend was not in any sense forced to shame this woman. He chose to do that.
Okay, next observation: in Cusick's telling, his priest friend asked the woman to cover her shoulders. That's not what "ask" actually means, though. And by that I mean that I very much doubt that this woman could have declined. Being "asked" to cover up is akin to being "asked" to leave. Or "asked" to resign.
Next, note that, in Cusick's story, the woman was asked to cover her shoulders. Look, I'm not okay with shaming someone over short skirts or cleavage either, but shoulders? Seriously? What next, ankles? This really is absurd. Does this priest also take men aside when they wear form-fitting clothing that shows off well-defined pecs, or particularly excellent biceps? Somehow I doubt it.
Let's talk, for a moment, about process and methods.
In Cusick's tweet, his priest friend dealt with his feelings about this woman's attire by going up to her and telling her to cover up. There is no way for a priest to do this without shaming her. The priest could have approached it in other ways. He could have created a dress code that's written out, and posted it on the church doors the next Sunday. He could have approached an older woman in the church who mentors the woman and asked her to bring the issue up with her. He could have mentioned it generally in a sermon.
It's not that I'm particularly okay with sermons against immodest dress or with older women taking younger women aside and coaching them on how not to distract men. I'm not. But the more I thought about Cusick's tweet the more I felt the direct singling out, by a male religious leader, felt toxic and shame-inducing.
Cusick's priest friend didn't consider whether this woman will be comfortable in this church going forward. From his perspective, perhaps, he thinks that if a woman isn't willing to accept spiritual correction, that's on her. But that's a little harsh, don't you think? Especially when there were other ways to go about it? This priest is a man. In what world is a priest approaching a woman about her clothing choices appropriate?
I'm not actually onboard with sermons against immodest dress, or with older women in the church taking younger women aside and telling them not to wear this or that (which can itself be extremely shame-inducing), because I'm not okay with the idea that women need to cover up to protect men. On some level, this goes back to the idea that thinking sexual thoughts is sin, and I don't think that idea is the least bit healthy.
We're humans. We're wired to find certain things attractive, or—god forbid—sexy. To teach men that thoughts that are wired into their brains and don't hurt anyone are sin is extremely harmful. To put women in charge of making sure men don't have thoughts that are wired into them is worse. Better to teach men—and women!—how to handle their natural urges, thoughts, and feelings in a healthy way.
Next let's turn to dress codes.
As I wrote this post, I continually found myself feeling that if Cusick's priest friend cares this deeply about what women attending his church wear, he should create a post a formal dress code. The ad hoc nature of this individual enforcement of a (presumably) unstated dress code is bad for everyone involved. But then I asked myself, would I actually be okay with that? When is a dress code okay—and when isn't it?
Different sorts of dress are appropriate in different situations. You wouldn't wear a crop top and short shorts to a board meeting—unless it is a very informal board, an d you knew that in advance. No one wants to be dressed inappropriately for an event or situation. But this sort of dress code isn't about sex or maintaining men's purity. It's about being situation-appropriate.
If someone walks into a formal church service  dressed in a halter top and a miniskirt, they'll very likely feel out of place, and they'll probably wear something different next time. I went to a funeral recently. I texted a few people to check what people were going to wear. How formal would it be? I didn't want to feel out of place. My husband started a new job. Once again, he wanted to know about dress code—if everyone was wearing suits and ties, he would too. Most people want to dress appropriately for events or venues they attend.
There are hip churches where everyone dresses down; there are more traditional churches where people in attendance wear "church clothes." If you're leading a church, it could make sense to let people know, on your website or in welcome information, what the general feel of your worship services are. Casual attire? Sunday best? (I recently went to an elementary school graduation that asked attendees to wear their "Sunday best.")
I draw a line, however, between dress codes designed to help people wear situation-appropriate clothing and those designed to keep women from districting the men. There's a difference between saying "wear your Sunday best, at this church we like to dress up for God," on the one hand, and saying "cover your shoulders, wear skirts that fall below your knees, and don't show cleavage," on the other.
Our local high school recently went through a complete rewrite of its school dress code. Why? Because the code wasn't geared toward ensuring that students wore situation-appropriate clothing, but toward preventing female students from wearing a wide range of attire considered "distracting" to male students. The new dress code was re-centered on being situation-appropriate, rather than potential "distraction" to male students.
On contrast, a Catholic high school in San Diego just banned skirts, requiring female students to wear pants, because administrators were unable to effectively require girls to maintain "an overall modest skirt length."
If the purpose of a dress code is to make sure people are situation-appropriate, that's fine. But if its purpose is to prevent girls from being "distracting" to boys, that's another thing entirely.
Cusick's priest friend needs to get over it. He needs to understand that what women wear isn't about him. And if he's so hung up on sex (and his ability to have it) that even bare shoulders turn him on, he may want to ask some questions about his Church's theology, and its role in furthering (or creating) his sexual hangups. Because really, this isn't about what his parishioners wear. It's about him, and his inability to be professional.
I have a Patreon! Please support my writing!