James C. McKinley, Jr. recently wrote a thought-provoking piece in the New York Times. In "At the Protests, the Message Lacks a Melody," McKinley contrasts the current Occupy Wall Street protests with their ancestors. His article begins:
"Every successful movement has a soundtrack," the songwriter Tom Morello told reporters after he had tried to fire up the crowd at the Occupy Wall Street Protest last week with a Woody Guthrie tune and one of his own labor songs.
Perhaps he is right, but the protesters in Zuccotti Park in Lower Manhattan have yet to find an anthem. Nor is the rest of the country humming songs about hard times. So far, musicians living through the biggest economic disaster since the Great Depression have filled the airwaves with songs about dancing, not the worries of working people.
Where have all the protest songs gone?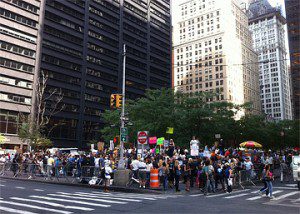 Part of the problem, according to McKinley, is the lack of a message in the Occupy protests:
The lack of a coherent message on the left has been evident at the Wall Street protest. "I have not heard a single song that sums up what we are trying to do here," said Martían Hughes, a 24-year-old college student, after Mr. Morello's performance. "Nor have I heard a single message."
But it may be the digital social media has taken the place of music:
"In the 1960s music was the social media of the day," said Ralph F. Young, a professor of history at Temple University, who has written a book on dissent in America.  "Today protestors have Facebook and Twitter to disseminate their message."
Or their messages. It seems to me that part of the problem is that the recent protests seem to have no central message, other than scattershot anger. Maybe somebody should write an "I'm really mad about everything" song.