A recent article in the New York Times highlighted people who are proudly unreasonable. No, not the Tea Partiers or the Wall Street Occupiers. These unreasonable folk are "entrepreneurs who want to change the world."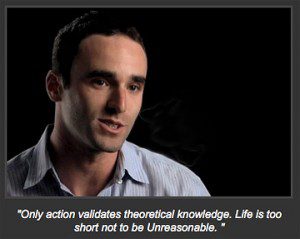 Why call them unreasonable? Because they are participants in the Unreasonable Institute of Boulder, Colorado. Co-founded by Daniel Epstein, this six-week summer institute is "for entrepreneurs who want to solve social problems and make some money, too." As Hannah Seligson explains in her Times article,
Welcome to the age of the spreadsheet humanitarian. The central idea of the Unreasonable Institute is that profit-making businesses can sometimes succeed where their nonprofit counterparts might falter. Mr. Epstein, 25, and a serial entrepreneur, says the Unreasonable Institute wants people who are willing to think big, even when skeptics scoff.
The competition for being a student of the institute is stiff. What are Epstein and his associates looking for?
"We select for-profit ideas that we think have the ability to meet the needs of at least one million people," says Mr. Epstein, who founded the institute along with Teju Ravilochan, 24, and Tyler Hartung, 26.
The selected entrepreneurs include people like Myshkin Ingawale, 28, of Biosense Technologies, which makes a device that tests women and children for anemia; Luis Duarte, 30, who started YoRecicolo (I Recycle) in Monterey, Mexico; and Jamie Yang, 31, founder of a EGG-energy, a company based in Tanzania that sells rechargeable batteries through a portable power grid.
Does any of this work? Seligson provides several examples, including this one:
FOR some participants, the institute is just one stop on a kind of social entrepreneurship circuit; they've been awarded numerous fellowships, won different business plan competitions and are regular faces at industry conferences. For others, the institute is their first encounter with this scene. This is especially true for many of the 60 percent of fellows who live outside the United States.
By coming to Boulder this year, Mr. Duarte of Mexico, founder of YoRecicolo, which operates recycling programs, was able to meet like-minded people who work on recycling and waste issues. He even received an invitation to speak at a Clinton Global Initiative conference in New York last month. His company has been profitable since last year.
The name of the Institute, in case you're wondering, comes from a quotation by playwright George Bernard Shaw, who said, "All progress depends on the unreasonable man."
I find it ironic that this group of unreasonable entrepreneurs is featured in the New York Times while the Occupy protests are growing in popularity. In New York and elsewhere, able-bodied, well-educated men and women are expressing their anger against "the system," in many cases condemning capitalism as the cause of all that ails us. Then, there are the unreasonable people: young, idealistic, visionary, seeking justice, caring for the poor, and doing something tangible about the world's ills by using the power of capitalism. This does make one wonder who really are the unreasonable people.