Honestly, I've never been much into high heels. Given that I'm a 54-year-old male, that's probably a good thing. About 50 years ago, I wore some of my mom's high heeled shoes, but only for a few steps before I fell. I couldn't imagine how people could actually wear them or why they would want to. I still haven't quite figured that out.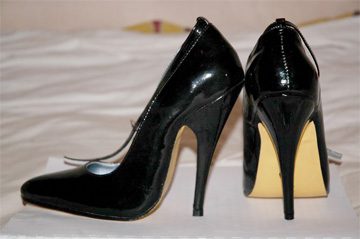 But, now we have scientific evidence that wearing high heels is unhealthy. Gretchen Reynolds, writing for the New York Times, gives an overview of recent research that frowns on high heeled shoes. In "A Scientific Look at the Dangers of High Heels," Reynolds summarizes a study by three scientists at the Musculoskeletal Research Program at Griffith University in Queensland, Australia. Here's the quick conclusion:
It was obvious, as the scientists had suspected watching the woman during their coffee break, that the women habituated to high heels walked differently from those who usually wore flats, even when the heel wearers went barefoot. But the nature and extent of the differences were surprising. In results published last week in The Journal of Applied Physiology, the scientists found that heel wearers moved with shorter, more forceful strides than the control group, their feet perpetually in a flexed, toes-pointed position. This movement pattern continued even when the women kicked off their heels and walked barefoot. As a result, the fibers in their calf muscles had shortened and they put much greater mechanical strain on their calf muscles than the control group did.
Why does all of this matter? Because it means that women who regularly wear high heels are facing a much greater risk of injury, not only when they are walking in heels, but also when they are not wearing them.
All of this gets me thinking. What if it could be demonstrated beyond a doubt that regular wearing of high heels was damaging to the wearer's well-being? At this point, would the government intervene, as in, say, the case of smoking? Should the government pass laws that people under 18 should not wear high heels? Or should they only be permitted to wear the to prom? Perhaps there should be laws limiting the number of days people wear high heels, or the number of hours per day? Perhaps even laws specifying the number of high heels a woman is allowed to have in her closet?
Now, if this sounds overly statist, remember, I've spent most of my life in California, with eight years in Massachusetts. I'm used to living in places where the government feels a moral obligation to keep people from exercising their freedoms if doing so might cause them harm.
Ah, maybe the government shouldn't keep people from wearing high heels. Perhaps a big warning label on each box of shoes would be sufficient:
Warning: The Surgeon General Has Determined that Wearing High Heels is Dangerous to Your Health