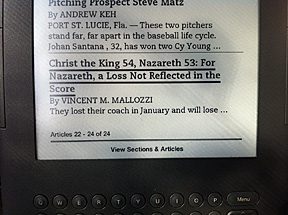 Today, as I was reading the New York Times on my Kindle, I came upon a peculiar sight. The headline read: "Christ the King 54, Nazareth 53: For Nazareth, a Loss Not Reflected in the Score." Since I don't follow New York high school basketball, I wasn't quite prepared for what I read. As it turns out, Nazareth High School girls basketball team was expected to win this game, so it was an upset.
Moreover, there is a sweet, sad human interest story here. It turns out the Nazareth, the defending city and state champion, lost its coach in January. She died unexpectedly of at heart attack at the age of 38.
I did a little search on the Internet to learn more about this story, and discovered another surprising headline. I guess Jesus' game must be getting better as he grows up.