Sugar has been in the news recently, and it hasn't been tasty.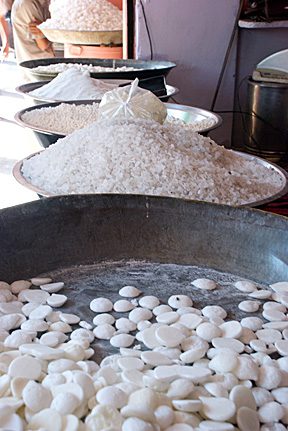 The big headline comes from New York City, where Mayor Bloomberg and his associates are seeking to ban the sale of sugary drinks larger than 16 ounces. That's right, no more Big Gulps in New York, if Bloomberg has his way. Here's how the New York Times describes the proposed ban:
The proposed ban would affect virtually the entire menu of popular sugary drinks found in delis, fast-food franchises and even sports arenas, from energy drinks to pre-sweetened iced teas. The sale of any cup or bottle of sweetened drink larger than 16 fluid ounces — about the size of a medium coffee, and smaller than a common soda bottle — would be prohibited under the first-in-the-nation plan, which could take effect as soon as next March.
The measure would not apply to diet sodas, fruit juices, dairy-based drinks like milkshakes, or alcoholic beverages; it would not extend to beverages sold in grocery or convenience stores.
Bloomberg seeks to impose this ban in order to fight obesity:
"Obesity is a nationwide problem, and all over the United States, public health officials are wringing their hands saying, 'Oh, this is terrible,' " Mr. Bloomberg said in an interview on Wednesday in the Governor's Room at City Hall.
"New York City is not about wringing your hands; it's about doing something," he said. "I think that's what the public wants the mayor to do."
Well, now that's an interesting point. Does the public want the mayor to do this sort of thing? Does the public expect government to limit the sale of foods that aren't healthy? And even if the public did not want the government to do such a thing, should the government do it in order to protect the health of the public? Is this good government? Or is it Big Brother?
I wonder if there would be unintended consequences of this ban. I notice that dairy-based milkshakes would not be covered by the ban. Suppose people switched from drinking lots of Cokes to drinking lots of chocolate milkshakes. Would this help the obesity problem? Or would this simply mean that the city of New York should also limit the size of milkshakes?
Now, I do not drink sugary sodas and the like. If I did, I would have my own personal obesity problem. I stick to diet sodas and iced tea. So, I would not personally be affected by Bloomberg's ban. But it does make me worry. One of my favorite delights in New York is Dunkin' Donuts. In normal life, I don't eat donuts. It's that obesity issue again. But when I'm in New York, I get one Old Fashioned Dunkin' Donut as a happy reminder of my college days on the East Coast. Now, I'm sure that a donut isn't good for me. If New York bans the sale of certain kinds of foods deemed to be unhealthy, what if they turn their sights toward donuts? Where does it all end? No more gruel for you, Oliver.
Ironically, yesterday's news also had a story about the FDA denying a request from the Corn Refiners Association to rename high fructose corn syrup as "corn sugar." In fact, most of what Mayor Bloomberg worries about is not actually sugar, but high fructose corn syrup which may NOT be called "corn sugar."
Finally, I remembered reading a long piece in the New York Times on the question "Is Sugar Toxic?" I do not have the expertise to evaluate this article, which shows that the dangers of sugar may be far beyond its tendency to make us fat. The author does not come down definitively on this, but he points to research that raises real concerns. I wonder what would happen in New York City if it were determined that sugar actually is much more a threat to health than we think. That may not be good news for the M&M store in Times Square.