Okay, I admit that's an odd title. Please let me explain.
A week ago, the University of Alabama football team won the national championship, beating Clemson 45-40. The turning point in the game was a surprise play, in which Alabama used an unexpected onside kick to grab hold of the momentum, not to mention the lead.
If you've been following college football for a while, you know that this play was doubly unexpected because Alabama is coached by Nick Saban, who is one of the most successful coaches in college football history because of his guarded, conservative approach to the game. The Nick Saban we have grown to know and love (or not, if you root against Alabama) would not have risked using an onside kick. He would have trusted his defense to hold the line while his offense managed to gain the upper hand.
What explains Saban's completely unexpected play calling? A recent article in the New York Times offers a satisfying explanation. In "An Enduring Coach Pulls a Timely Trick," Marc Tracy shows that Saban's earlier approach to winning football championships just wouldn't work anymore, given significant changes in the college football. But, rather than being stuck in the past, Saban innovated, changing his approach to the game substantially. Tracy goes on to show that Duke's Coach K (Krzyzewski), the most successful college basketball coach, made a similar change in his coaching of his team, the result being a recent national championship. Both Coach Saban and Coach K demonstrated an exceptional ability to make substantial, adaptive changes in a changing context.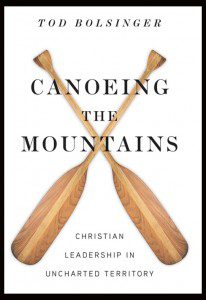 So far, so good. Right? Now what's this about canoeing the mountains? I'm referring to a fairly new book that is getting lots of attention. It's called Canoeing the Mountains: Christian Leadership in Uncharted Territory. The author, Tod Bolsinger, a colleague of mine at Fuller Seminary, not to mention a good friend, uses the metaphor of "canoeing the mountains" based on the experience of Lewis and Clark, who successfully completed the mission of the Corps of Discovery because of their ability to lead creatively in light of unexpected circumstances, namely, the awesome Bitterroot range of the Rocky Mountains. They had to "canoe the mountains."
You are probably not a coach of a national contender in college football or basketball. But, whether you're a pastor, a small business owner, a branch manager, or a CEO of a major company, you are probably facing challenges not unlike those confronting Coach Saban and Coach K, not to mention Meriwether Lewis and William Clark. If so, I encourage you to get a copy of Canoeing the Mountains. You and those you lead will be glad you did.