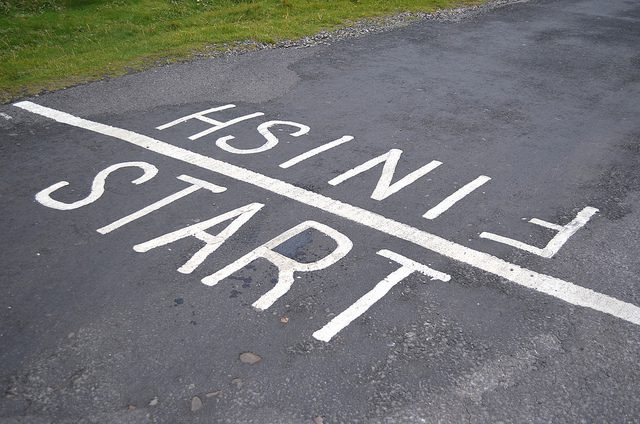 How should we pray for our work? Some of us pray constant "help me" prayers. Some of us don't pray at all. Some of us share pray requests for every detail of our work. Some of us only bring work up when we are faced with a terrible boss or a job-transition. Jesus followers have always struggled with how to pray. His first class of trainees asked him "teach us to pray." Jesus' response, what we call the Lord's prayer, provides the structural frame upon which we build effective, proactive, workplace praying.
Jesus said pray like this:
"Our Father in heaven,
Hallowed be your name. 
Your kingdom come,
Your will be done, on earth as it is in heaven.
Give us this day our daily bread,
And forgive us our debts, as we also have forgiven our debtors.
And lead us not into temptation, but deliver us from evil.
For yours is the kingdom and the power and the glory, for ever. Amen
Jesus model prayer is an "end where you begin" model.  In this post, we focus on the final phrase, a thread that loosely mirrors the theme of the opening 4 lines.  This repetition unleashes the focus shaping power of Jesus' prayer pattern.
Reminding ourselves whose story we live in.
Three narratives shape most of work life—the economy, market trends, and one's sense of job-satisifaction. The Wall Street journal and a number of other news outlets, provide up to the minute commentary on the first two. One's own sense of well being and career place shape the third. The result is that my work story gets wrapped up in how to stay ahead of the trends and be happy with work.
While there is a place for embracing some "worldly wisdom" here (see Luke 16), at the end of the day, we risk a neurotic obsession with our progress and sense of fulfillment at work.   When we are ahead and win, we pat ourselves on the back—we have the victors' story. When we miss the queues and lose, we sulk in shame. Instead of praying to win, Jesus invites us into a bigger and better story through our conversation with God.
His is the kingdom—ultimately he's in charge and by the end of history, his agenda will be the one that rules the world.
His is the power—there's so little of our lives that we can ultimately control or make happen. God's power sustains us, holds together the world around us, and works to change us from the inside out.
His is the glory—the credit for anything that brings joy, beauty, or benefit to others rests in God. As the creator, he set the stage for the show we call life. As the redeemer, he works through our work to rescue our world from its self-destructive bent.
My life at work is not my story with God as supporting cast. My life at work is a venue for God's kingdom, power and glory to be displayed.   Ultimately, everything about my life is part of his story.
Replacing our Wants with His "Is."
Jesus ends the prayer where he begins—with a corrective focus on God.  Jesus wants to lift us from narcissistic workplace prayers to a fresh horizon where our work is prayerfully embraced as part of God's work.  Our wants, have their proper place in the middle of the prayer (give us our daily bread). But these wants are sandwiched between God's "is": God's will, kingdom, power, and glory. Effective workplace prayer gives these the most airtime.  As we pray for our work, Jesus invites us to enter the divine paradox. We lose our lives for his sake—surrendering to his agenda and priority above our own. But then we find ourselves in a mystery where we gain a durable, joyful life at work in the process.
How About You?
Have you found freedom and joy in actively seeking God's kingdom and will and glory above your own?
Prior Posts in this Series
September 22, 2015 Teach US To Pray For Our Work
September 27, 2015 Why Prayer for our Work, Works
October 4, 2015 The First Request
October 9, 2015 Greek Gods and Workplace Prayers
October 14, 2015 Daily Bread for Your Day Job
October 18, 2015 Spiritual Debt-Forgiveness
October 24, 2015 What to do with the Dangerous Side of Work-life? Practice Preemptive Prayer
Picture:
https://www.flickr.com/photos/andrewhurley/6254407253, https://creativecommons.org/licenses/by-sa/2.0/legalcode