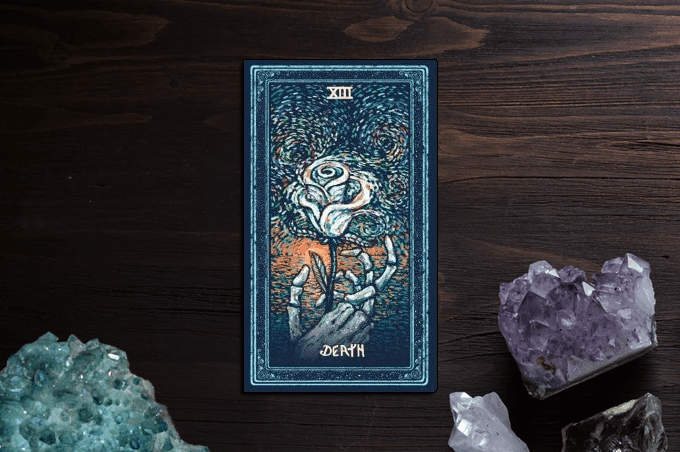 The Prisma Visions Tarot is a stunning deck created by James R. Eads. The vibe of the deck is of an impressionism art style somewhat reminiscent of Van Gogh's Starry Night but with a magical and whimsical twist. One of the absolutely brilliant things about this deck is that each suit (i.e. chalices, swords, etc) is each a seamless image from Ace to King. The Major Arcana are each standalone images, but perhaps the most beautiful aspect of the deck itself.

The deck is based on the Rider-Waite-Smith deck in its meaning but each card is expressed differently than the RWS deck. The deck contains an extra 79th card with a question mark, which is the wild card equivalent of the more popular Happy Squirrel card. The one I received is Strawberries, as pictured above. The varying palette of colors used make this deck fantastic for those who read more intuitively and incorporate the significance of colors into their readings. The deck also covers a variety of emotions and the flowing nature of the artwork itself can help allow your eyes to intuitively flow to different parts of the reading itself, which is extremely helpful.

Every card in Prisma Visions has a silver metallic edge, making it even more beautiful. The quality of this deck is amazing. The card stock quality is very sturdy and has a glossy UV coating about it, making the cards slide easily when shuffling. The cards come in a very sturdy and well designed flip-top box and comes with a 100 page mini-guide to the deck and the artists' vision and meaning. There's also a variation of this deck called the Light Visions Tarot, which is monochromatic instead of colorful and has gold edging instead of silver.
---
Connect With Me


Website | Tarot Readings | Facebook | Twitter | Instagram | Tumblr | Mailing List