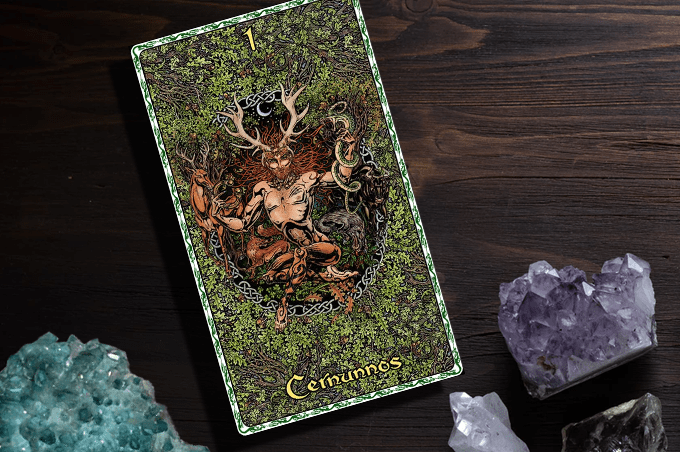 Oracle of the Ancient Celts – The Dalriada is a gorgeous deck created by artist Maxine Miller, Raven Grimassi and Stephanie Taylor Grimassi. If you're a pagan or a practicing witch there's a good chance that you're familiar with Maxine Miller's art, particularly her wildly popular statues of pagan deities. There's even a high probability that you or someone you know own her statuary. Raven & Stephanie Grimassi really need no introductions. As elders in Witchcraft and Paganism, Raven's accomplishments and books alone are numerous and has had several well-known students such as Scott Cunningham and Donald Michael Kraig.
 

View this post on Instagram

 
The deck consists of 25 cards which are divided into five categories with five cards in each:
LEAF: Cernunnos, The Greenman, The Oak & Holly Kings, Taliesin, and Magickal Animals
STARS: Cerridwen, The Morrigan, Brigid, Danu, and Epona
SKY: The Triple Goddess, Manann, Druid Priests, Selkie, King of Dalriada,
FIRE: The Dagda, Lugh, Nuada, Stone of Destiny, and Dragon
STONE: Ravens, Wheel of the Year, Triskele, Pentagram, and Torc
The "little white book" that comes with Oracle of the Ancient Celts – The Dalriada is 111 pages and is full color, consisting of the beautiful artwork of Maxine Miller and the amazing insight and wisdom of the Grimassis. Each card is given an introduction to that deity (or object), a divinatory meaning, a reversed meaning, other world nature, and spiritual meaning. The booklet also includes a bit of Celtic history and discusses the Dalriadan culture and its influence and importance on Celtic cultures and tribes. Included are also two spreads. The first spread is The Standing Stones used for general or overall readings. The second spread is The Chieftan's Shield and is used to read for specific and singular matters.
 

View this post on Instagram

 
Oracle of the Ancient Celts – The Dalriada comes in a beautiful and sturdy box which is small enough for travel and sturdy enough to survive it, which is one of my biggest complaints about most decks aside from card stock. The size of the cards are about that of your average tarot deck. The cards have a glossy coating to them and the card stock is fairly good having slightly better card stock than your average mass market tarot deck, which is great for a deck that is indie printed. The deck also has a silver gilding which gives adds to its beauty and also brings in a psychic lunar quality to them. I decided to give the cards a test run by shuffling them, performing the provided spread and sticking straight to the meanings provided by the Grimassis. I'm actually shocked at how accurate and articulate the reading was for an oracle deck, as oracle decks tend to be much more vague than systems like tarot or lenormand. The cards may take a while to get acquainted with, but luckily there's only 25 making that a much easier task.
 

View this post on Instagram

 
---
Related Articles:
Review: Communing With The Ancestors
Unearthing The Magickal Mandrake
Witch Blood: The Magickal Orientation
---
Connect With Me
---