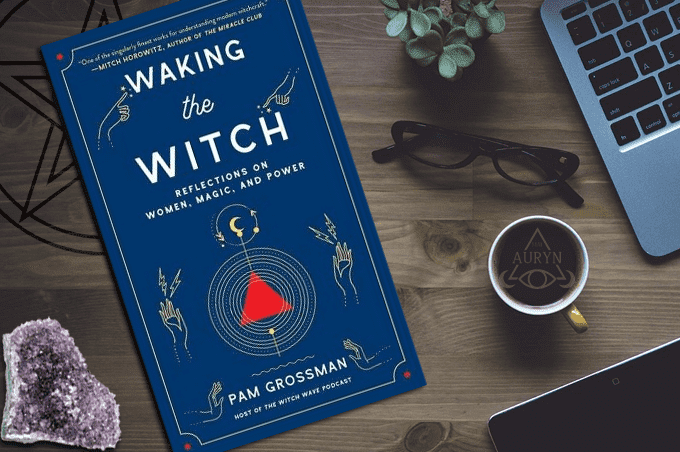 I had only peripherally been aware of Pam Grossman and her work in the last few years and am not quite sure how I stumbled upon her book Waking the Witch: Reflections on Women, Magic, and Power, but am glad I did. Reading the book felt synchronistic, as I had been ruminating a lot on the hardest question I get asked, which you would think would be the easiest – what is a witch? The problem is that the word means so many things to so many people throughout different cultures and periods of time, both those who personally identify with the word and those who don't. I have also spent time meditating on the witch archetype of folklore and fantasy, and how I'm not quite convinced we can exclude her from this answer as she influences modern practices and vice versa. This is the exact topic that Grossman takes on as she tackles the question of both who a witch is and why she personally identifies with the word.
In Waking the Witch, Grossman presents her hypothesis that we can understand a society's view of women by taking a look at their concept of witches. She entwines together seemingly disparate threads to weave a more complete tapestry of who the witch is. Those threads include witches as portrayed in history, folklore, novels, movies, music, fashion, art, politics, feminism, spirituality, and religion – and why the title of witch is worthy of reclaiming, warts and all. Some of the avenues she explored surprised me but I found her reasoning solid – such as looking at movies like Labyrinth or The Rocky Horror Picture Show – two movies I wouldn't necessarily relate with witches before reading this book.
Her writing is intelligent, well-researched, witty, entertaining, and personable. By the time I was done with the first chapter, I knew that I already loved this book. I found myself yelling, "yes!" out loud in agreement several times throughout the book's pages. Through clouds of clove cigarette smoke, Portishead trip-hop beats, and early back-firing spellcasting experiments – her personal anecdotes were so relatable to my own journey, including some of the private struggles in her life that she had to face, that she already felt like a good friend while reading the book. Waking the Witch isn't a how-to book on being a witch, nor is it a grimoire of spells – it's a book with a message, a very important message – and it has helped me to be more succinct with my own ideas of what a witch is in a general sense. I know it's a book that I'll be returning to reread again and I look forward to hopefully more books from her.
---

---
Click Below To Purchase My Book: