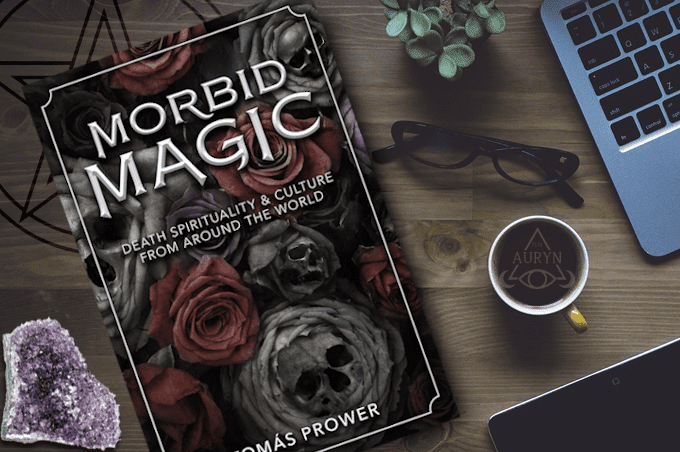 You would think a book titled Morbid Magic: Death Spirituality and Culture from Around the World would have prepared me for what was inside the book, but it still grabbed me by surprise. The book starts off very morbidly from the get-go, going into extreme detail of what happens to our bodies after we die at the morgue in modern society, along with the lack of reverence that comes with it. You would think the title would have clued me in and prepared me for that, but somehow it didn't. This was a wakeup call that felt like having ice-cold water unexpectedly poured on you when it comes to the reality of death most of us ignore.
Coming from a background as a mortician and a magickal practitioner devoted to Santa Muerte, Tomás Prower wants us to face the reality of death right off the bat and have us confront the cold reality that we're disconnected to as a modern society. The main heart of the book is contrasting it with how death is and was treated outside of Western Culture in the present time. I loved that Prower was very careful about the seriousness of how powerful working with death is and how it may alter our lives in ways we're unprepared for – giving the example of a cautionary tale of a man who committed suicide after reading and performing practices from his book La Santa Muerte: Unearthing the Magic & Mysticism of Death.
Morbid Magic feels like the natural third book to his previous two books, sort of uniting them together in a way. Similar in format to his previous book, Queer Magic, Prower explores practices, beliefs, spirits, and deities of cultures throughout the world and history, this time with a focus on death.  This may be the most comprehensive collection I have ever seen. Prower's tone is reverent while still sprinkling in a bit of his dark humor here and there. The book includes stories of different practitioners around the world concerning their death practices and experiences. These anecdotes provide insight and wisdom of those who work with the energy of death and ways in which modern practitioners might approach these topics. My personal favorites were the two pieces from Danielle Dionne, who I was thrilled to see included.
Morbid Magic isn't for the faint of heart or the weak of stomach, as it is indeed morbid. However, despite many of our reluctances to confront these topics, I feel they're very important and I'm grateful that Prower wrote this book. For as morbid as the book can get, it is equally fascinating. This book is highly recommended for anyone drawn to the macabre who's interested in religious history or magickal practices, as well as those who are involved or interested in the Death Positivity movement.
---

---
Click Below To Purchase My Book: