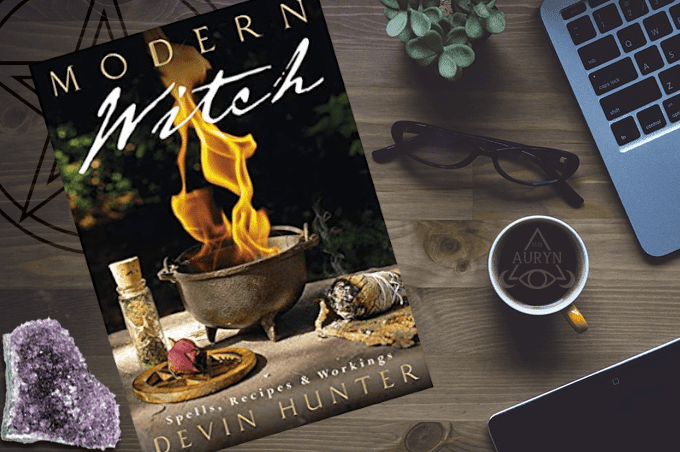 To say that Modern Witch: Spells, Recipes & Workings by Devin Hunter is a gorgeous book is such a huge understatement. Devin and Llewellyn truly went above and beyond for this book. The book is a fully-colored beautiful formulary of the spells, recipes, and workings of a modern witch. Aside from it's beautiful aesthetic, the book has substance, something a lot of the pretty picture witchcraft books don't have.
Modern Witch bridges a gap that isn't in the Witch's Power series by Devin Hunter (The Witch's Book of Power, The Witch's Book of Spirits, and The Witch's Book of Mysteries). That gap is how to perform powerful and effective spell-working. The book is set up to where anyone regardless of if they've never performed a spell before or if they're a seasoned practitioner can be casting with efficiency in no time at all. The book is full of Devin's insight into spell work and spirit work that makes this book truly unique from other grimoires or formularies.
I can't simply write a written review of this book and do it justice, so I recorded a video to show you just how beautiful the book is.
Modern Witch is truly comprehensive, covering so much area. The book is divided into seven chapters: First Steps, The Stuff Magic Is Made Of, Love Magic, Healing Magic, Protection Magic, Prosperity Magic, and Divination. Within the pages of this book you will how to perform things such as a love magic charm bag, a finger scrying spell, the bottle of 1,000 eyes, the witch's foot, the serpent candle spell, a Jupiter budget working, crafting a golem fetish, praying to Fortuna, a self-love spell, honey jar spells, working with familiar spirits, faeries, angels, and demons, crafting poppets and dollies, performing knot magic, working with gemstones, signs, symbols, creating condition oils, working with tasseomancy, astrology, spirit boards, color magic, planetary magic, plant magic, and so much more
Modern Witch is perfect as a reference and training guide for witches of any experience level to start performing and level up their practice of life changing magick that works. It would also make a beautiful coffee table book for house guests to flip through and admire. This book, most of all, would be the perfect gift for that special witch in your life.
Ways To Support My Work: