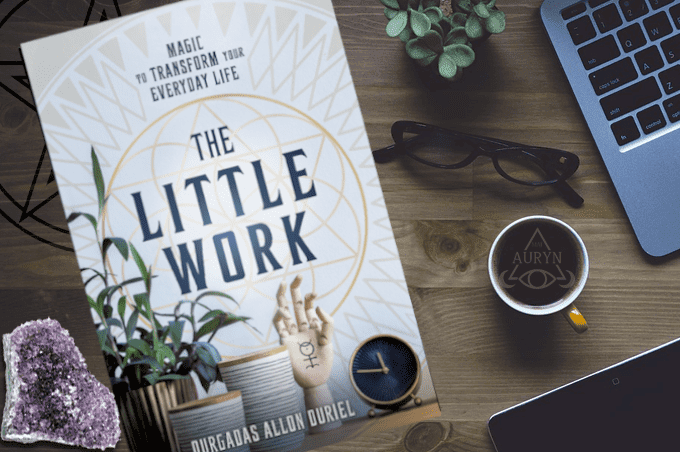 Durgadas Allon Duriel's The Little Work: Magic to Transform Your Everyday Life is one of the best metaphysical books I have read in a long time. This book is so greatly needed that it's astonishing that it hadn't been written before. Durgadas spends about the first hundred pages laying out the foundation of magickal theory, spell crafting, and inner alchemy. He does so in a very clear and digestible manner – so even if this is your very first book on the subject of magick you'll be set for the rest of what the book explores. The book is intelligent, well researched, empowering, supportive, and absolutely genius. There's also a very strong healing quality throughout the pages of this book; healing the self and one's life. 
The Little Work is a reference to "The Great Work" of the occultist and the Magnum Opus of the alchemist. "The Great Work" is, in essence, the art of purification, transformation, and perfection of the self and one's spiritual life and destiny through occult means. "The Little Work," on the other hand, is the purification, transformation, and perfection of the self and one's life through occult means targeting our everyday needs. This idea of the "The Little Work" serving as a crucial component for "The Great Work" is almost a direct answer to and extension of the works of Israel Regardie, Franz Bardon, and Dion Fortune where they discuss and reference doing this type of work but then don't ever dive into the detailed practices of how that is done as this book does.
In a sense, The Little Work allows you to ensure that your everyday life is in order and at a place where you can then create the magickal life that you want. The subtitle of this book could have easily have been called, 'The Little Work: How To Get Your Sh*t Together And Unf*ck Your Life As A Magickal Practitioner.' The concepts and exercises in this book can easily synch to anyone's personal practice or be integrated within any magickal tradition. Do yourself a favor and grab this book, I have a feeling it will change many lives. 
Ways To Support My Work: