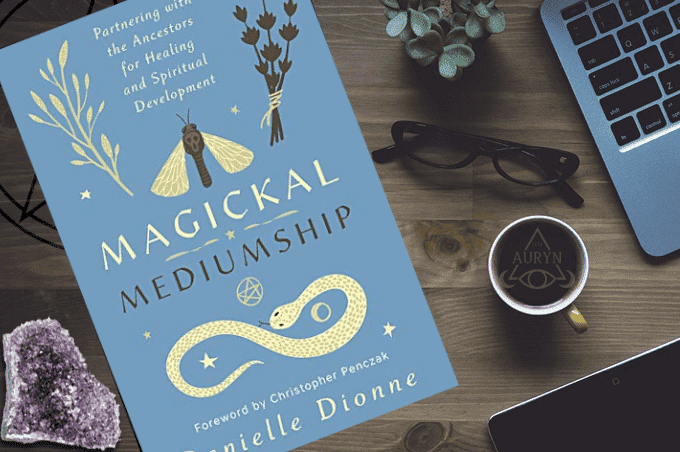 Let me just start by saying that this book is absolutely amazing! There is not a single soul more qualified to write on the relationship between mediumship and magick than Danielle Dionne. Magickal Mediumship masterfully weaves her experience and knowledge of spiritualist mediumship and her necromantic and ancestral magickal practices in a manner that not only makes complete sense, but is bound to bring healing, empowerment, and closure for the spiritual practitioner. The book opens with a beautiful foreword from none other than Christopher Penczak whom she has worked with closely in the Temple of Witchcraft as the deputy Scorpio minister, encompasses the areas of death, dying, grief and bereavement, and ancestor veneration and spirit communication.
Chock-full of exercises, personal experiences, and Danielle's great sense of humor and refreshingly affable tone—she lifts the veil on the closely guarded secrets of communicating with and partnering with those who have transitioned from this life to craft magick in one's life. Aside from her occult training, Danielle has also studied under some of the biggest names in mediumship and is highly respected in the mediumship community. That's because Danielle has a high personal standard when it comes to the authenticity, integrity, functionality, evidence verification, and concrete results when it comes to both magickal practices and mediumship – and it's no surprise that she offers nothing less in this book, while still keeping it approachable and easy to follow for the beginner. Magickal Mediumship fills a much-needed chasm in the metaphysical and occult world of books.
Magickal Mediumship is the best book on these topics that you can get your hands on and is sure to be a classic. I endorse Magickal Mediumship fully with every ounce of my being and wish I had this book when first exploring the intersection of psychism and magick. I'm hoping to see a lot more books by her in the future.
Ways To Support My Work: