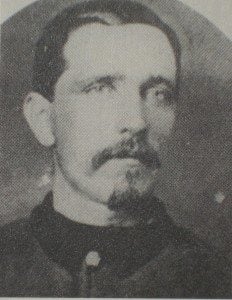 For as long as I can remember, I have been fascinated with the Battle of the Little Bighorn and the figure of George Armstrong Custer. So you can imagine my delight to find out that I had a family connection to the Seventh Cavalry. Recently, I discovered a photograph of a lateral ancestor who fought in the battle. As far as I have been able to determine, John Briody was a cousin of my great-great-grandfather Henry Briordy. (The name was alternately spelled Briody and Briordy throughout the 19th century, both in private writings and in official documents such as the U.S. Census.)
The information on John Briody is scarce, but not as scarce as one might expect. We know that he was born in Brooklyn, as were most of the Briodys, in 1847. The first of the Briodys, coming from County Cavan, settled in Brooklyn during the Irish Famine that killed over a million Irish men, women and children. The Briodys were no different than the immigrants today who come to America in search of a better life. John was born in 1847, and enlisted in the United States Army in 1866, right after the Civil War. He was assigned to the Seventh Cavalry at Fort Riley, Kansas, serving with the regiment until his death. The military records describe him as 5'5″, with brown hair, blue eyes and a fair complexion. He was assigned to Company F, commanded by Captain George Yates (1843-1876). The troop was known as the "Band Box Troop." One historian gives the following reason:
While Yates was in charge of the 7th U.S. Cavalry, F Company, it was known as the "Bandbox Troop." During this phrase "just stepped out of a bandbox" meant a man's attire was very neat and precise. A bandbox was a cylindrical container of thin wood which held a man's hat and other crushable pieces of clothing.
In 1875, John Briody was promoted to Corporal. This was no small achievement at a time when promotion in the post-Civil War army was extremely slow. In the aftermath of Little Bighorn, the remains of Corporal Briody, along with those of many other soldiers, were never identified, but a mass grave holds their remains.