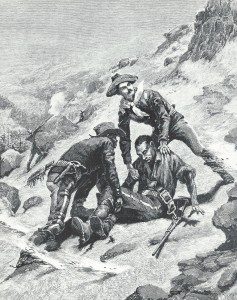 One of my favorite Frederic Remington drawings depicts the rescue of a Buffalo Soldier during the Indian Wars by an officer of the Tenth U.S. Cavalry. The officer in question was Second Lieutenant Powhatan H. Clarke, West Point Class of 1884. Clarke died tragically early at age 31, drowning while swimming in the Little Bighorn River. What I didn't realize is that Clarke is not buried in Arlington, as one might think, but in Calvary Cemetery, St. Louis, Missouri, a Catholic cemetery founded in 1854. Clarke's Medal of Honor citation, issued on March 12, 1891, reads as follows:
The President of the United States of America, in the name of Congress, takes pleasure in presenting the Medal of Honor to Second Lieutenant Powhatan Henry Clarke, United States Army, for extraordinary heroism on 3 May 1886, while serving with 10th U.S. Cavalry, in action at Pinito Mountains, Sonora, Mexico. Second Lieutenant Clarke rushed forward to the rescue of a soldier who was severely wounded and lay, disabled, exposed to the enemy's fire, and carried him to a place of safety.
Other famous historical figures buried in Calvary include Dred Scott of the famed case, General William T. Sherman, and author Kate Chopin.