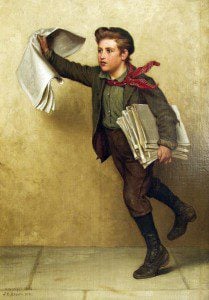 A Monday roundup of great articles that are worth your time to read, ponder, share, or even argue with.  This week's list:
Seeing is a choice, and it's not without a cost. That cashier who always shuts down my attempts at friendly chit chat makes me want to quit trying altogether. There's this guy in the produce department who always wants to talk to my husband and me about his ideas of adult entertainment, which always leads me one step closer to reporting him to his manager. Once, when I said "good evening" to another man, he wouldn't let me leave for about ten minutes without ranting about the inexcusable dearth of mango trees in Dallas. Yet I have to believe that choosing to see people and venturing to broach conversation while shopping maintains eternal significance.

In Matthew 25, Jesus tells a story about when the Son of Man will return in all His glory, and both those who enter the Kingdom of God and those who must depart from it will ask, "When did we see you?"

Maybe, during that long and wonderful conversation, He'll say, "I was at the store."
Image: "Extra, Extra (The Paper Boy)," John George Brown. Courtesy of the Grohmann Museum at the Milwaukee School of Engineering.