Today we're starting a series of posts on Luther, Lutherans, and calling by Lutheran pastor Adam Roe with responses over at Cranach by Gene Veith. (Read the response to this post here.) They'll appear from time to time in this space for the next couple of weeks. Enjoy!
---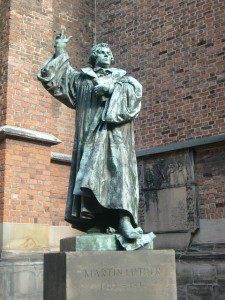 "I am a pastor, but we are all ministers."
Most readers have probably heard the above statement, or some variation of it, in their denominational circles. As a United Methodist in the process of transferring to a newer Lutheran association, much of my credentialing work has been focused on both the nature and function of the pastoral office as expressed in the Book of Concord. A student quickly realizes that within Protestantism generally, and Lutheranism specifically, one cannot answer questions about the pastoral/priestly office unless s/he also has some understanding of the priesthood of all believers.
I have found it helpful to consider ministry in light of the doctrine of Christian Vocation. Central to the Lutheran Reformation was a reclamation of lay piety and, perhaps, lay ministry. Though some of my Lutheran friends would argue that lay-minister is an oxymoron, it is my contention that Luther's focus on vocation broadened the view of ministry in a practical sense, even if not in a dogmatic sense. The Lutheran Reformers strongly emphasized God's call on the lives of all people to their various stations in life. As such, I think all of my Lutheran friends and I can agree on at least this much; Luther and the Lutheran theologians were concerned with God's immanence in all of life.
With such a worldview, the vocation of the priest or monk was no more or less important than the role of baker or the farmer. Prominent critics like
Adrian Hastings
have disagreed with some of Luther's conclusions about the state of the laity, offering that Luther's observations may have been due to regional abuses. I disagree. Certainly there was a wide enough reaction against church abuses to conclude that many theologians, and perhaps laity, were unsatisfied with what they perceived as corruptions to the life of faith.
It is therefore my contention that aside from the doctrine of justification, the greatest contribution Luther and later Lutherans have made was on the topic of vocation. Specifically, I think Luther's reaction against a Levitical-like priesthood was at the heart of his reclamation of the piety of the laity. Even if readers disagree with Luther's theology, it is my hope that there will be some recognition of how Luther shaped the piety of all Protestants and, as such, that there will be consideration given as to whether Luther's Reformation has been entirely realized even within Lutheran Churches. Luther's life is a good place to start for perspective. Stay tuned!
   Adam Roe is the pastor of New Life Lutheran Church in Sterling, IL.