We get all sorts of questions from readers about resources for LGBTQ Christians and their families: What books will help my own doubts about same-sex relationships? Where can my mom go to get support from other parents of LGBTQ children? How can my church start talking about faith and sexuality more constructively?
So we decided to compile a guide of our favorite resources, organized by topic, which we'll continually update and modify. It includes books, blogs, support groups and advocacy organizations. We'll update these items regularly, so bookmark this page and share it with others who need a good starting point in the conversation of LGBTQ issues and Christianity.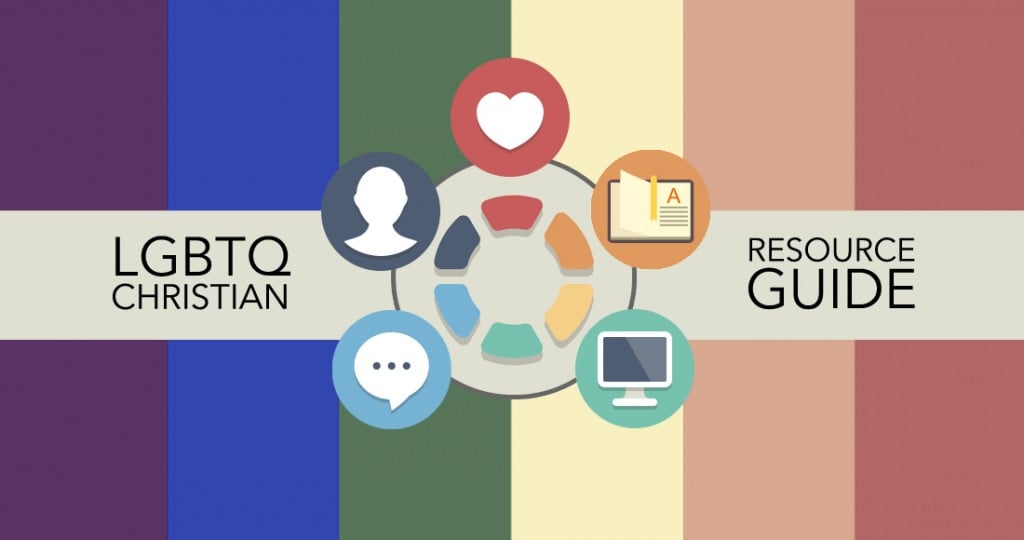 Categories
Support, Personal Commentaries, and Testimonies
Books
Does Jesus Really Love Me?, Jeff Chu
In this timely work—part memoir, part investigative analysis—a prize-winning writer explores the explosive and confusing intersection of faith, politics, and sexuality in Christian America. When Jeff Chu came out to his parents as a gay man, he knew that he had to get to the heart of a question that had been haunting him for years: Does Jesus really love me?
Loves God, Likes Girls, Sally Gary
A memoir, Sally shares some of the painful and confusing lies she grew up believing about herself that shaped her views of femininity and her ability to form healthy relationships with both men and women. Rather than providing "cookie-cutter" answers, the book explores one woman's perspective on the multitude of experiences that impact the development of sexuality.
Space at the Table, Brad Harper and Drew Harper
Can a theologian and his gay son overcome the differences in belief that threaten to destroy their relationship? For Brad and Drew Harper, that question wasn't theoretical—and neither was the resounding yes they found after years of struggle.
Torn, Justin Lee
As a teenager and young man, Justin Lee felt deeply torn. Nicknamed "God Boy" by his peers, he knew that he was called to a life in the evangelical Christian ministry. But Lee harbored a secret: He also knew that he was gay. In this groundbreaking book, Lee recalls the events that led him to self-acceptance.
Support
Center for Inclusivity
A Chicago-based nonprofit that exists to build and support inclusive communities through public forums promoting thoughtful dialogue. They foster environments where people of all faiths, genders, and sexual identities can learn and be fully known. Offering counseling referrals, pastoral care, community training & community gatherings.
The Gay Christian Network
Founded in 2001, GCN is the pre-eminent international network of Christians working for fully inclusive Christian community and a world where all people are treated as the beloved children of God. It is GCN's mission to transform attitudes toward LGBTQ people and bring about a day when the church is the biggest ally and defender of LGBTQ people rather than a chief opponent.
Generous Space Ministries
Generous Space (formerly New Direction) is a Canadian-based ministry whose mission is to disciple Christ-followers to work together to eliminate fear, division, and hostility at the intersection of faith, gender, and sexuality.
Incarnation Ministries
Incarnation is an LGBTQ-inclusive campus ministry. Members build Christian community through developing a relationship with Jesus, studying the Bible as God's authority and infallible word, experiencing the Holy Spirit, and developing transformative whole life discipleship.
Blogs
Amber Cantorna
Amber is an author, speaker, and coach with a heart for people who find themselves at the intersection of their faith and sexuality.
Kevin García
Kevin is a writer, speaker, creative, recovering type-A personality whose heart is for the LGBT+ community, folks in the midst of their quarter-life crisis, and those marginalized by the Church.
Matthias Roberts
Matthias is a writer and speaker advocating for change in how faith communities engage with LGBT people. He's finishing up two master's degrees at The Seattle School of Theology and Psychology: one in Theology and Culture and the other in Counseling Psychology.
Julie Rodgers
Julie is a writer, speaker, and advocate for LGBT people in Christian communities. She has served as an advisor to religious leaders, college administrators, and LGBT students at Christian colleges.
A Queer Calling
Sarah and Lindsey are a celibate (Side B), LGBT, Christian couple. Their blog reflects upon how celibacy can be a life-giving, life-affirming pathway to holiness.
Blue Babies Pink
For nine years, Brett Trapp kept a secret journal of thoughts on being gay and Christian, knowing one day he'd shout the story he feared most. On a Tuesday morning in late 2016, he logged onto Facebook and began shouting…
Homosexuality and the Bible
Books
Bible, Gender, Sexuality, James Brownson
This thought-provoking book by theologian James Brownson develops a broad, cross-cultural sexual ethic from Scripture, locates current debates over homosexuality in that wider context, and explores why the Bible speaks the way it does about same-sex relationships. (A dense book but highly recommended!)
The Bible's Yes to Same-Sex Marriage, Mark Achtemeier
Mark Achtemeier embarked on a personal journey with the Bible that led him from being a conservative, evangelical opponent of gay rights to an outspoken activist for gay marriage and a fully inclusive church.
The Children Are Free, Jeff Miner and John Tyler Connoley
In The Children Are Free, Rev. Jeff Miner and Rev. John Tyler Connoley offer a comprehensive yet easy-to-read examination of the biblical evidence regarding loving same-sex relationships and God's attitude toward them.
God and the Gay Christian, Matthew Vines
Feeling the tension between his understanding of the Bible and the reality of his same-sex orientation, Matthew Vines devoted years of intensive research into what the Bible says about homosexuality.
Walking the Bridgeless Canyon, Kathy Baldock
In 2001, Kathy Baldock, a straight conservative evangelical Christian, met Netto Montoya, a lesbian Native American, on a local hiking trail near her home in the Sierra Nevada. Their developing friendship challenged Baldock's cultural and religious beliefs about the LGBTQ community.
Homosexuality and Acceptance in the Church
Books
A Letter to My Congregation, Ken Wilson
A breakthrough work coming from the heart of evangelical Christianity, Wilson shows how God has led him on a journey toward a rethinking of what the fully authoritative and inspired Bible ought to be taken to mean in the life of the church today.
Changing our Mind, David Gushee
In Changing Our Mind, Christian ethicist and public intellectual David Gushee takes the reader along his personal and theological journey as he changes his mind about gay, lesbian, bisexual and transgender inclusion in the Church.
Oriented to Faith, Tim Otto
With gentle wisdom and compassionate insight, Tim Otto tells the story of his struggle with being gay and what that taught him about the gospel. With an authentic and compelling personal voice, Tim invites us to explore how God is at work in the world, even amidst the most difficult circumstances, redeeming and transforming the church through this difficult debate.
Unclobber, Colby Martin
Unclobber reexamines the six frequently quoted "clobber" passages of Scripture, alternating with author Colby Martin's own story of being fired from an evangelical megachurch when they discovered his stance on sexuality.
Resources
Gay Church
Ministering to LGBTQI Christians and our allies around the globe, GayChurch.org features the largest welcoming and affirming church directory in the world. Use the web site to find an affirming church near you.
Institute for Welcoming Resources
IWR is an ecumenical group whose purpose is to provide the resources to facilitate a paradigm shift in multiple denominations whereby churches become welcoming and affirming of all congregants regardless of sexual orientation and gender identity.
The Marin Foundation
The Marin Foundation is a non-profit that works to build bridges between the LGBTQ community and conservatives through scientific research, biblical and social education, and diverse community gatherings. They strategically partner with conservative and progressive religious entities and the LGBTQ community to make a sustainable difference in today's religious and secular cultures.
The Reformation Project
The Reformation Project is a Bible-based, Christian grassroots organization that works to promote inclusion of LGBT people by reforming church teaching on sexual orientation and gender identity. Their vision is of a global church that fully affirms LGBT people. Check out their site for great video lectures.
Parents of LGBTQ Children
Books
How We Sleep at Night, Sara Cunningham
A christian mother comes to terms with her son being gay through a personal journey that starts with the Church and ends at the Pride Parade. Called a " is an intimate, real, often emotionally raw, ultimately challenging, spiritual and emotional memoir."
"Mom, I'm Gay," Susan Cottrell
This is a book about how to respond with love and support during a vulnerable time for your child. With practical advice and heartfelt encouragement, Cottrell guides readers through the fear and uncertainty Christian parents of LGBTQ children often feel.
Risking Grace, Dave Jackson
Risking Grace is a father's story about his agonizing personal journey of coming to realize that evangelicals have lost their way when it comes to gay people by substituting a works/righteousness requirement for the clear Gospel message that salvation comes by grace through faith alone.
Blogs
Just Because He Breathes
A resource created by Linda Robertson that shares how God taught her and her husband—conservative, evangelical parents—how to TRULY love their gay son. The site grew out of a piece written at the request of a small group of LGBT students at a conservative Christian university. It was never intended for a larger audience, but it became widely read and shared.
Susan Hope Berland
A personal coach for parents of LGBTQ children, Susan's blog covers a variety of issues that arise for parents in navigating challenges. Although not faith-based, some posts do touch upon spiritual matters.
Support
FreedHearts
Founded by Susan Cottrell, mother of two LGBTQ children, FreedHearts champions the LGBTQ community and families with tender-heartedness, and zealously challenges Christians that love is the foundation of faith.
Marin Foundation Local Support Groups
The Marin Foundation has compiled a list of local support groups for Christian parents of LGBTQ children. Groups comprise parents of various backgrounds, Christian denominations, and beliefs about this conversation. They may not have the same theology as you or feel the exact same way about this topic but they will listen and give advice with compassion and understanding.
PFLAG
Uniting people who are LGBTQ with families, friends, and allies, PFLAG is a secular organization committed to advancing equality through its mission of support, education, and advocacy.
Serendipitydodah for Moms
Serendipitydodah for Moms is a lively private Facebook group created by Liz Dyer for open-minded Christian moms who have LGBTQ+ kids and want to develop and maintain healthy, loving, authentic relationships with them.
Trans-Parenting
Trans-Parenting is an organization dedicated to providing support and educational resources to parents and their advocates (pediatricians, mental health professionals, lawyers, schools, friends, family, and churches) raising a gender-independent child.
Transgender & Gender Non-Conforming Issues
Books
Crossing, Deirdre McCloskey
Crossing is the story of Deirdre McCloskey (formerly Donald), once a golden boy of conservative economics and a child of 1950s and 1960s privilege, and her dramatic and poignant journey to becoming a woman.
Sex Difference in Christian Theology, Megan DeFranza
How different are men and women? When does it matter to us—or to God? In Sex Difference in Christian Theology, Megan DeFranza explores such questions in light of the Bible, theology, and science.
Shattering Masks, Laura Beth Taylor
Who am I? It's a simple question. Yet most of Laura Beth Taylor's life, the answer was incredibly elusive. Shattering Masks is the story of how Taylor came to reconcile her faith in God with living a genuine, authentic life.
This Is My Body, Christina Beardsley
This Is My Body offers a grounded reflection on people's experience of gender dissonance that involves negotiating the boundaries between one's identity and religious faith, as well as a review of the most up-to-date theological, cultural and scientific literature.
Trans Bodies, Trans Selves, Laura Erickson-Schroth
Trans Bodies, Trans Selves is a revolutionary resource—a comprehensive, reader-friendly guide for transgender people, with each chapter written by transgender or genderqueer authors.
Transgender 101, Nicholas M. Teich
Written by a social worker, popular educator, and member of the transgender community, this well-rounded resource combines an accessible portrait of transgenderism with a rich history of transgender life and its unique experiences of discrimination.
The Transgender Child, Stephanie A. Brill and Rachel Pepper
Through extensive research and interviews, this comprehensive first-of-its-kind guidebook explores the unique challenges that thousands of families face every day raising their children in every city and state.
Blogs
Austen Hartke
Austen Hartke is the creator of the YouTube series "Transgender and Christian," which seeks to understand, interpret, and share parts of the Bible that relate to gender identity and the lives of transgender individuals.
Shannon T.L. Kearns
Father Shannon T.L. Kearns is a writer, speaker, and theologian. He is the co-founder of Queer Theology. He graduated from Union Theological Seminary with a Master of Divinity and is an ordained priest in the Old Catholic Church.
Paula Stone Williams
Paula worked for a major church-planting ministry for 35 years, including time as Chairman and CEO, and served as a weekly columnist and Editor-At-Large for Christian Standard magazine. She was also a teaching pastor for two megachurches. Those responsibilities ended when she transitioned to live as Paula.
Support
Sophia Sojourn
Laura Bethany Taylor is a blogger, counselor, and advocate for marginalized people in faith communities. She has a degree in Communications and Christian Ministry from Dallas Baptist University and more than 25 years of experience in various ministry platforms.
Trans Parenting
Trans-Parenting is an organization dedicated to providing support and educational resources to parents and their advocates (pediatricians, mental health professionals, lawyers, schools, friends, family, and churches) raising a gender-independent child.
Transfaith
Transfaith is a national non-profit, led by transgender people, that works to support transgender spiritual/cultural workers and their leadership in community. They work closely with many allied organizations, secular, spiritual, and religious, transgender-led and otherwise.
Marriage & Relationships
Books
The 5 Love Languages*, Gary D. Chapman
Whether your relationship is flourishing or failing, Dr. Gary Chapman's proven approach to showing and receiving love will help you experience deeper and richer levels of intimacy with your partner—starting today.
Get Closer, Jeffrey N. Chernin
Get Closer is a secular guide to healthy LGBTQ relationships. Having counseled gay men for more than twenty years, Dr. Chernin shows how you, too, can build a strong, lasting relationship.
The Seven Principles for Making Marriage Work*, John Gottman and Nan Silver
Dr. John Gottman has revolutionized the study of marriage. This book is the culmination of his life's work: the seven principles that guide couples on the path toward a harmonious and long-lasting relationship. (Highly recommended!)
Preparing for Christian Marriage, Steve Wigall
An inclusive handbook for straight and LGBTQ couples seeking a joyful marriage. It includes a discussion guide for clergy who are working with them.
* Not LGBTQ-specific, but still a great resource
Blogs
The Gottman Institute Blog*
The Gottman Institute is dedicated to combining wisdom from research and practice to support and strengthen marriages, families, and relationships.
Modern Kinship
A blog by David and Constantino Khalaf (that's us!) about navigating family, church, and life as a married gay Christian couple.
#StayMarried*
A blog and podcast by Michelle and Tony Peterson, #StayMarried offers stories and resources for couples looking to strengthen their marriage.
* Not LGBTQ-specific, but still a great resource
LGBTQ-Affirming Counseling & Therapy
Resources
Candice is a married gay Christian counselor and mother of twins in Southern California. She is the founder of The Christian Closet, a web-based counseling practice that specializes in LGBTQ-related issues. She is also a writer, speaker, and one of the "10 Pro-LGBT Religious Women You Should Know" according to The Advocate Online. Candice also has a great blog!
David and Colin Evans-Carlson
David & Colin Evans-Carlson are a Christian married couple who offer professional counseling services. Based in British Columbia, they offer counseling regarding a variety of relational and mental health concerns. They have a particular heart for helping LGBTQ people of faith find greater congruence and peace, along with healthier relationships. David & Colin also offer couples counseling and premarital counseling to LGBT couples moving towards marriage.
iAmClinic, LLC
The iAmClinic, LLC was created to help men and women of all ages come to understand truth about themselves, their relationships, and their sexuality. The iAmClinic staff has undergone intensive training, consultations, and ongoing continuing education to ensure that they provide optimal treatment with ethical standards. The Denver therapists at iAmClinic are Licensed Professional Counselors in the State of Colorado.
Social Commentary, Social Justice, Social Media
Books
Excluded, Julia Serano
As a trans woman, bisexual, and femme activist, Julia has spent years challenging forms of exclusion within feminist and queer/LGBTQ movements. In Excluded, she chronicles these instances of exclusion and argues that marginalizing others often stems from a handful of assumptions that are routinely made about gender and sexuality.
Our Lives Matter, Pamela R. Lightsey
Lightsey helps readers explore the impact of oppression against Black LBTQ women while introducing them to the emergent intellectual movement known as queer theology. The author privileges their narratives and experiences as she reviews several doctrines and dogma of the Christian church.
Rainbow Theology, Patrick S. Cheng
Rainbow Theology is the first book to reflect upon the theological significance of the intersections of race and queer sexuality across multiple ethnic and cultural groups. This is particularly important in light of the current polarizing debates over issues of race, sexuality, and religion within churches and communities of faith around the world.
Rescuing Jesus, Deborah Jian Lee
With empathy, journalistic rigor, and powerful storytelling, Lee unpacks the diverse and complex strands of the progressive Christian movement—and how people of color, women, and queer Christians are reclaiming evangelicalism. Given the clout that evangelicals still hold in national politics, this movement is important for the future of our country.
The Velvet Rage, Alan Downs
Today's gay man enjoys unprecedented, hard-won social acceptance. Despite this victory, however, serious problems still exist. Substance abuse, depression, suicide, and sex addiction among gay men are at an all-time high, causing many to ask, "Are we really better off?"
Resources
Believe Out Loud is an online network that empowers Christians to work for lesbian, gay, bisexual and transgender equality. We elevate the people and places where Christianity and LGBT justice intersect.
COLAGE
COLAGE unites people with lesbian, gay, bisexual, transgender, and/or queer parents into a network of peers and supports them as they nurture and empower each other to be skilled, self-confident, and just leaders in our collective communities.
#faithfullyLGBT
Faithfully LGBT provides a platform for LGBT people of faith to make their voices heard. They travel around the nation taking photos, collecting stories and sharing them online to put a face to the diversity of experiences for those living at the intersection of faith and sexuality.
Many Voices
As a Black church movement for gay and transgender justice, Many Voices envisions a community that embraces the diversity of the human family and ensures that all are treated with love, compassion, and justice.
Queer Grace
A a curated encyclopedia of information and ideas around the life of LGBTQ people in the Christian faith. They offer a safe space full of resources for all those navigating their journey in the church.
Queer Theology
Queer Theology uncovers and celebrates the gifts that LGBTQ people bring to the Church and the world. They offer courses, resources, retreats, a magazine, and more—all designed to go deeper into queer theology and shift the conversation.
Soulforce
Soulforce's goal is to turn this world upside down and inside out in the name of justice and equity for folks across all marginalized racial, sexual, and gender identities. They seek to do the kind of collective activism that makes our souls burst as we free ourselves from spiritual violence.
The Visibility Project
A national portrait and video collection dedicated to the Queer Asian American women & trans community. The Visibility Project breaks barriers through powerful imagery and storytelling.
Twitter
Vicky Beeching
A theologian, writer, broadcaster, speaker and academic based in central London.
Jeff Chu
Brooklyn-based reporter and writer covering many topics, including faith and sexuality.
Alicia Crosby
A faith-engaged community organizer, activist, and co-founder of Center for Inclusivity.
Eliel Cruz
A writer, faith organizer, activist, and culture commentator. Co-host of @TheAgendaQueer
Broderick Greer
Greer facilitates conversations at the intersection of American history, queer theory, black theology, human rights, and racial justice.
Robyn Henderson-Espinosa
Dr. Robyn is Public Theologian in Residence at Faith Matters Network.
Kenji Kuramitsu
A writer, seminarian at Chicago's McCormick Theological Seminary, and board member of The Reformation Project
Rachel Virginia Hester
Student activist, grassroots public educator, racial and gender consultant.
Like our Facebook page and follow us on Twitter for more.
Icons in illustration from Bambang Dewanto and Nick Roach, used with permission through Creative Commons.