We were lucky enough to volunteer at the the Gay Christian Network's inaugural Parents' Retreat two weekends ago. We were impressed by the diversity of people who attended. There were parents whose child had come out to them decades ago, and parents whose child had come out only three months ago. There were parents deeply involved in their church, and parents who had been burned by the church and stopped attending. There were parents who embraced their LGBTQ child's sexual orientation or gender identity, and parents who were struggling to accept. But there was one thing all of the parents had in common: They deeply, unreservedly loved their children. And they want to understand them better.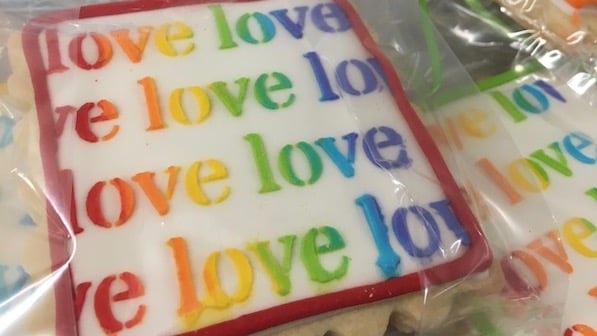 The weekend was created by GCN because of the growing need for a space where Christian parents of LGBTQ children can ask questions, explore their doubts, and process their emotions. It's part of an effort to expand programming and education, along with a GCN youth retreat planned later in the year. The scheduled parts of the weekend included workshops and a keynote speech by Pastor Danny Cortez, but the most valuable time occurred between the sessions, when parents simply chatted with each other and shared their stories.
A particularly cathartic moment took place during an organized sharing time: One mother stood up and unabashedly told everyone how she flipped the middle finger to her old church every time she drove past it. She was through with church and she didn't care who knew it. The comment was received with laughter—some genuine, some forced. Others spoke with tears in their eyes about not wanting to lose their faith or choose between God (or even church) and their children. Their words spoke to the purpose of the event. The GCN Parents Weekend was a sacred space where everyone was welcome at the table. Quiet, conservative parents met loud, outspoken progressives. Parents who have only considered a Side B way of living for their child were able to respectfully dialogue with parents of married gay children. The table was large enough to accommodate a diversity of opinions and ideas, lovingly and gracefully. That's what church should be; that's what church seldom is.
One thing we truly appreciated about the bird-flipping mother was her pure authenticity. Her words may have come off abrasive to some. They almost certainly made several parents uncomfortable. But she was sharing herself openly, speaking her truth. In her words of anger, there was hurt and sadness. She had been rejected by the church for loving her gay child, but that wasn't the worst of it. Her child had been rejected by the church. Many parents would suffer countless indignities before having to watch their own child publicly shamed and ostracized. Who would dare to deny this mother her hurt? Who would dare question her anger?
The Parents Weekend had us thinking about our own parents. Constantino loves his dearly, but his sexuality has driven a wedge in-between their relationship and he hasn't seen them for years. David's parents struggled with his sexuality for years, but their love for him always trumped any concerns they had. It was this same attitude we saw in the parents that weekend: They were making the choice to love first, despite the doubts, concerns, fears, and shame they may have about their child's sexuality. Rather than starting from a place from judgement and working outward from there, they were choosing to love first. And that makes all the difference. Because when you choose to love first, everything else becomes trivial details that can be worked out later.
Like our Facebook page and follow us on Twitter for more.