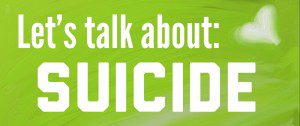 Due to a variety of circumstances, I often contemplate suicide. I really do believe that my loved ones would be better off without the sadness and difficulties I bring into their lives – especially my children. They tell me otherwise but how do I get past what I know to be true? They say it would be a selfish choice, but I don't see it that way.
I commend your courage to be so frank and open about your suicidal thoughts. This is a very difficult topic to be honest about. And the question/thoughts you pose are common among those that struggle with suicidal ideation.
I have a friend I have come to know over the last few years who has been very open about what it meant to lose her father to suicide when she was a young girl — how his decision impacted her life and how she wishes things could have been different. I do not share her thoughts in any attempt to shame or guilt the space you currently find yourself in. At the same time, I hope it can offer you a different perspective. Conditions like depression and bipolar disorder are mental health issues that affect your brain – in particular causing what we call "cognitive distortions." This is where your cognitions (or thoughts) lie to you and promote perspectives that are unhealthy and untrue.
Please get the help you need at this particular time. The first and easiest step anyone can take who is struggling with these types of thoughts is to call a crisis line – available 24/7 (1-800-273-8255). Seek counseling with a therapist who can help you develop a safety plan. Get rid of any means you might be considering (i.e. guns, medicines, etc.) — even if you just hand them to a friend or family member temporarily. Let your ecclesiastical leaders know what you are facing and be specific with them as to the type of support you need from your community (a good therapist can help you do this — if you give signed permission, your therapist can speak directly with your bishop). See your primary care physician for a referral to a psychiatrist who can assess the level of depression you are experiencing and discuss possible medication options. Please know your life is valuable. I hope these thoughts are helpful and please message me directly if you need further support (natashaparker.org).
Today's guest post is written by Darien Child. Opinions shared on guest posts may not completely reflect the positions of the blog's author.
Darien Child lives with her family in Utah. She is a Realtor and Interior Design professional by trade, and an advocate by heart. Darien became a suicide survivor at 10 years old after her beloved Dad took his life. She is the mother of two beautiful little girls who increase her passion to help raise awareness about critical topics, such as suicide prevention. It is her deepest hope that sharing the pain and also the triumphs of suicide survivors, may help those struggling with suicidal ideation to seek the support they need to thrive.
This message is for anyone that has ever struggled with depression and/or suicidal thoughts. It's also a tribute to my Dad.
This past month marks 27 years without my Dad.
For anyone that has attempted or thought about taking your life… if you feel that the world, your family, your loved ones would be better off without you… please know that voice is WRONG. You are perfect just the way you are.
If you feel that they would mourn for a few days, possibly a few weeks or just have their heart strings tugged on holidays… that voice is WRONG. You will be missed deeply every single day… forever.
It doesn't matter what your struggles are or what "failures" have occurred. If you've struggled from abuse, chemical dependency, losing jobs, difficult relationships, past trauma, depression, questioning your sexual orientation or gender identity… even if you feel like you are not succeeding in any aspect of your life. If the world seems gray instead of full of color… The truth is, this world would be less bright without you. This world needs you. You are not broken. YOU ARE WORTH FIGHTING FOR SIMPLY BECAUSE YOU BREATHE.
We need you, this world needs you, YOU need you. Reach out for help… Not once… not twice… But UNTIL… Until you can find the reason to fight, even if it's for those you would leave behind. Keep working until you can find the reason to fight for yourself. YOU…ARE…WORTH…IT. Simply because you are YOU!
With all the bumps, bruises, falls, failures that you perceive yourself to have. We need you to STAY.
I wrote this letter to my Dad and I share it not to be too personal, but to show what remains and plays in my mind, even 27 years later. For me, his loss has gotten more difficult throughout the years. All aspects of suicide are something I would not wish on anyone. Many contemplating suicide think their loved ones will be better off and may miss them only momentarily. That is completely and wholeheartedly inaccurate. The longing, questions and pain last a lifetime.
I have an incredible life… But even that doesn't dampen the pain of the loss.
"I WONDER"
Dear Dad,
It's that time of year again. September. The month of National Suicide Prevention. And the month you left.
I wonder if you know how much I love you. How much I always loved you no matter what.
I wonder if you knew that you were my best friend. My protector. My idol. My very own Superhero.
I wonder if you remember the times you would pull me around on my skis like an ox just because you didn't want me up on the ski slopes.
I wonder if you remember taking me to my gymnastics practices, teaching me to do back handsprings, our back flip contests on the trampoline, making snowmen in the winter and mud pies in the summer.
I wonder if you remember throwing me up in the air so high that my tummy would tickle until I finally landed in your safe, strong, warm arms. How I long to feel those arms again.
I wonder if you knew that with you by my side, I felt like I could conquer the world and always be protected. Untouchable, unbreakable, unstoppable.
I wonder if you were heartbroken that I didn't come and visit you when I knew you were missing me. That still haunts me.
I wonder if you knew that after 27 years, I would still be a ball of tears and mush each time the anniversary of your death is upon me.
I wonder if you were watching me yesterday while I slipped on your Snowbird ski patrol jacket for the first time and wore it all day while I sobbed. How I would rub my fingers over your embroidered name. I wonder if you saw the hope in my eyes as I slipped my hands into the pockets hoping I would find any treasures that you had touched. And by treasure, I mean a wrapper, an old piece of gum, a cough drop… anything. Anything that I know your strong hands had touched.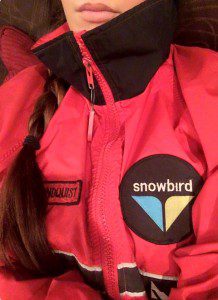 I wonder if you then saw your granddaughter and I snuggling on the couch talking about you when I suddenly felt a lump in your jacket. Then me frantically trying to figure out how to access it. Along with the eventual sobs that came when I discovered the treasure in the inside pocket of your jacket. The package of ear plugs that you used while bombing the avalanches. Thank you for keeping them in there. You saved people's lives for a living, but you couldn't save your own. I wish I could have.
I wonder if you know that I am still searching for a copy of the episode of "That's Incredible" where you were featured for saving the man from a heart attack at Snowbird. Just so I can hear your voice and remember what you looked like when you spoke. I don't remember those things anymore and it breaks my heart.
I wonder if you see me with my babies, your grand babies. Did you pick them out for me? Did you keep them in your arms in heaven before they were sent to me? Thank you for picking the two most beautiful souls in the world to send to me. Aren't they just magnificent, Dad?
I wonder if you see how incredible my husband is. How he holds me while I cry for you. How I close my eyes and pretend it is you that I am hugging instead, while he consoles me and tickles my back.
I wonder if you know how much I miss you. Not just on your anniversary, not just on holidays, but every day of my life.
I wonder if you are proud of me.
I wonder if you can hear me when I talk to you.
I wonder what you would want to tell me.
I wonder if it is really you trying to send me messages when I see symbols in my life that I connect to you.
I wonder if you miss me as much as I miss you.
I wonder if you had the moments before your death that I hear as a constant among suicide survivors. That as soon as they make the choice to die… they immediately regret their decision and want to live. That they experience a flash of all of the reasons they should not die. Did that happen to you? I wish I could have saved you.
I wonder if you knew that the only handwriting that I would have of yours is a couple of suicide letters. I love your handwriting. It's graceful and beautiful.
I wonder if you know how much I wish I could throw you a birthday party each year. How I pretend what it would be like for you to walk through my front door and sit on my back porch with me.
I wonder if you know what I would give for another hug.
I wonder if you know what I would give to hear your voice.
I wonder if you know how much I wish I could have changed your circumstances. How I wish that I could tell you all of the amazing attributes you have… and have you believe me. To tell you that all of the ways you thought you failed did not matter to me, ever.
I wonder if you knew that all I ever wanted was the perfectly imperfect you.
I wonder…..
Natasha Helfer Parker, LCMFT, CST can be reached at natashaparker.org. She authors the Mormon Therapist Blog, hosts the Mormon Mental Health and Mormon Sex Info Podcasts, writes a regular column for Sunstone Magazine and is the current president of the Mormon Mental Health Association. She has 20 years of experience working with primarily an LDS/Mormon clientele.