The Unexpected Winter: Lessons in Soul Growth
It has been a strange season here in the Northeast. By this time in years past snow has covered our driveways, our sidewalks and decorated skies with the fluffiness of snow. However, as I sit in my office on the 18th floor overlooking the Hudson River, I have yet to see the reminiscence of a snowflake down below.
Freezing days immediately followed unseasonably warm mornings. Occasionally, skies have been filled with grayness and the waters below have tossed, storm-like with anger. Winter has had a lot to say this year, presenting us with more of the unexpected than the familiar.
Listening to Nature's Lessons
I usually learn some of my best soul lessons from nature, and this winter has rendered me a constant student.The anticipation for many sunless days, and clouds of darkness above has transformed into moments of gratitude and hope.
Perhaps the universe, or a power much larger than myself, commanded nature to offer us extra light.
The world is not a calm place these days, chaos is all around; Yet this winter has gifted me with the opportunity to absorb more warmth, witness bright skies and gather moments of faith.
Making Room for Soul Growth
Welcoming the unfamiliar allows room for much soul growth. Endless opportunities can appear like presents that have been waiting to be unwrapped. For every moment of winter blues, one can invite their heart to call upon the glorious glistening skies of the day before – a lesson I place with great admiration and gentleness in the schoolroom of my soul.
May this season open the rooms of our soul to the gifts of unexpected opportunities that await us.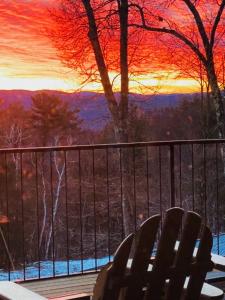 Morning Inspiration
When the weight on my soul interferes with my breathing, I find nature. 
When sounds of iniquitous words echo in the land, I find nature.
When my heart needs a rest from the uncertainty of our times, I find nature
When the unseemly fights it's way to become reality, I find nature
When humanity's shared beauty struggles to be seen, I find nature.
When I need to be reminded of the power a voice holds, I find nature.
In her beautiful embrace nature sustains me.
Assuring a fresh breath, feeding my courage.
Gifting my soul with excitement and strength to reach higher.
Today rest in the arms of what sustains you most.
If you liked this article, sign up for my newsletter, Morning Inspiration !
Click here to learn more about my book, A Heart's Landscape
Or join me on Instagram or Facebook
To read more of my regular contributions on  Patheos,  click here.