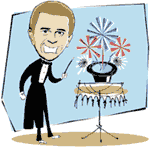 JANUARY
Oh, it's probably just the End Of Time.
FEBRUARY
Though I no longer eat mayonnaise, and can't remember the last time I had steak, here's: My One, My Only … MEME.
Oh well, true to form, some of the links are now missing in the post about My Uncle Monkey.
Ain't no such thing as a Bishop Gene.
More Uncle Monkey.
MARCH
In memory of Darwin Kirby.
Before the Pope made his comments about Islam, there were these from Pat Robertson and Winston Churchill.
APRIL
The Gospel of Judas and Britney Spears?
St Judas the Wonderwinker survives … though some links only wink.
MAY
Reading Umberto Eco is like reading a dictionary with more words.
Just for fun, once again: ALASKA.
Eastern Orthodox Oat Bran anyone?
We're on the road to nowhere.
On that whole Crunchy Convert Thingy.
Let's do The Time Warp again … Rocky Horror Da Vinci Code.
Though Symeon eventually saw it; I passed on free passes.
I had a little book published in May.
My interview with Dick Petranek and the Western Rite is currently in the January issue of The WORD.
Sugar, Spice, and everything Nicea.
JUNE
Now THIS was funny!
Seriously … What ever happened to Church unity?
Another one that wound up in The WORD … It's Simple.
Are they still making Episcopalians these days?
Y'all come! Orthodox Tent Revival. Oh, and here's the proper way of Snake Handling.
Good heavens! Must have been a Trick Play.
JULY
FWIW, books I liked. And, books I'd forgotten I'd read.
Come to think of it: What is Grace?
Lots of comments on the cute priest.
Nothing cute about Pat Buchanan. In fact, some folks still aren't speaking to me after this post.
AUGUST
Remembering Mary Stolzenbach.
Eco Again! (Or is that redundant?)
Then there was Superchristological and Homoousiosis!
A funny thing happened on the Way to Phronema.
Anglicans may soon look like THIS?
Eat, Drink & See Mary.
SEPTEMBER
Oh, and, by the way: HAPPY NEW YEAR!
Heh heh. Forgive me. Hair-ology.
Some might call this hair-brained: Choir Eye for Retired Guys.
The ups and downs of Elevator-ology.
Though the pic is now gone, the Pope's words are still shocking!
Mike Royko would be shocked to know I included him in a sermon.
Fr Thomas Hopko really stirred the pot with this one.
OCTOBER
ROCOR priest refuses the collar (etc).
Me and Max Lucado … almost.
The Nativity Story … SCRIPT.
The Beverly Hillbillies speaking in tongues!
Conrad follows Stolzi.
Ladies and Gentlemen … Name That Tune!
Rounding out October … Old Calendar Halloweeners?
NOVEMBER
Elmer P. Floodbottom needs your vote.
How 'bout a little Fun, Frolic & Fahrvergnügen?
Goodbye [sanity of] Elton John.
In memory of Sheila-Mary.
Some old meds, good for what ails ya: God is Young and Suffering Primary School.
Get real! Confession.
The rest of the mission priest: POEM.
DECEMBER

Christmas in LA … a long, long time ago.
Santa … Real or Memorex?
Getting a handel on it … as in GF's.
Forgive me. More on the book.
As Bishop Brother John Charles taught me: "My age is the right age … and it increases annually."
HAPPY NEW YEAR!
To the readers of ORTHODIXIE …
May God grant you all a properous life — peace, health, mercy, salvation, and the furtherance of all good things — and MANY YEARS!
Thanks for reading.

— Fr Joseph