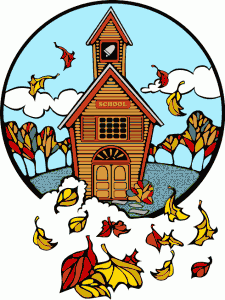 I wake her up by crawling into bed next to her, and we cuddle for a few minutes. She yawns and stretches; I sing her the song I sang to her when she was a small baby. Suddenly her eyes pop open with excitement "Is this the day I get to go to school mom?"
My heart skips a beat, but I affirm that yes this is her big day and then listen while she chatters about her hopes for school. We eat some fruit together and wonder what she will eat for breakfast at school. She puts on the outfit that she picked the night before and then we brush her teeth. We take a picture, and then her and Haley walk down the street to where the bus stop is. I stay home with the other kids who are still sleeping, not able to trust my emotions watching my baby get on the bus to go where I have never gone.
It's my first day of kindergarten, 22 years too late.
Haley comes home to find me curled up on the floor crying and fighting nausea. And after reassuring me that Ms Action was happy and excited about getting on the bus she has to leave for school herself, and I am left to watch the clock until it is time to meet my baby at the bus stop.
******************************
I knew I had anxiety about school. After years of believing that only parents who didn't love their kids put them into school, that putting your child in school was basically abandoning them and abdicating parental responsibility, I had nightmares leading up to her first day. Dreams where I didn't know where my baby was, dreams where the bus stopped but she wasn't on it, dreams where her teacher called to tell me Ms Action was crying. The night before her first day was almost sleepless, and I found myself starting a prayer for the first time in months. "God, if you are there… and if you are that mean cruel perfectionist god I don't mean you… but if there is a loving accepting god who cares, please let my baby have a good first day of kindergarten…" And that was when I trailed off, thinking about how kids starve every day, how there are kids that go missing and all the desperate prayers their mothers must pray for their return, kids that are abused and no one ever knows about it, and I knew that I was alone, and if there is a god he isn't going to care whether or not my baby feels good at school.
Strangely, it gave me some peace to once again come to that realization. That it doesn't matter whether or not I am good enough for god, or if I explained enough about god to give my daughter belief in him too. We only have our family and she knows I am here for her, and that I will be there at the bus stop without fail, excited to see her at the end of her school day. I know that she will be in the bright roomy classroom that we've visited several times, coloring and learning letters and numbers, probably using many of the materials that our family purchased for her class list of art and school supplies. I know that she has an experienced enthusiastic teacher, who has met with us more than once, has no problem with parents dropping in from time to time, is available through email and sends home a student note each and every week. I know that she is surrounded by a strong loving community, and I can reassure her of that unequivocally.
That first day went faster than I thought it would, before I knew it we were down at the bus stop, baby in the stroller, anxiously watching for the bus. She practically jumped off the bus into my arms, grinning ear to ear. She was wearing her spare shirt from her backpack, and explained that she had changed it after spilling a little milk on her shirt at breakfast. She sat down on the sidewalk to unzip her bag and show me the Ziploc bag with some small trinkets from her teacher. We walked home, where she immediately stripped out of her school clothes and put on a tank top and shorts and demanded a snack. She took the plate of crackers and fruit and went outside barefoot, where she sat in my lap and snuggled while eating her snack. And then she was off, just as usual, to run around in the grass, ride her bike, play in the dirt, and keep working on the pretend patio she and her little neighbor friend have been building in the backyard with some old bricks they scrounged up.
She is still the same energetic thoughtful kid. I am so proud to be her mom. Each day she comes home with new stories and experiences to tell me, and today was the first morning she yawned and told me that she wished she could stay home today, and started crying when she put on her pants and decided that they were "frustrating her underpants," a change of clothing and a few extra hugs later she climbed onto the bus and went off to school. She is still the same sensitive somewhat picky kid. I am so proud to be her mom.
I'm sure we have surprises and challenges ahead this school year, and I still have nerves and fears and worries about it all. But as I look ahead at the school year, I no longer have this black hole of purported terrors unknown. I am beginning to see days where school will be exciting and days where school will be boring. I see PTO meetings and ice cream socials. I see breaks for holidays and field trips. I see my daughter and I learning more and more to be a team, as she tries new things independent of her parents, and I am there for her every day to snuggle her, read to her, make her snacks and listen to her experiences, fears and dreams as this idea of school becomes less and less foreign.