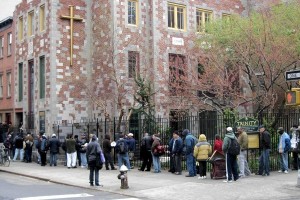 There are a lot of worthy causes related to Hurricane Sandy relief, and I have hesitated to promote any one over the others. But then I learned about the need at Trinity Lower East Side. Trinity was the host congregation for my church, St. Lydia's, for much of its first two years of existence, and every week we take a collection for its soup kitchen and food pantry, Trinity's Services & Food for the Homeless, which each day serves 250 hot meals to the homeless and gives out 50 bags of groceries. Trinity is between Avenues B and C in the East Village — three blocks from my home and into the flood zone — and when its basement flooded, it lost 75% of its large stock of food supplies for future meals.
Please consider
giving
even a little to them. I would be very grateful if among my friends and readers we donated $500. No amount is too small. (Well, $5 appears to be the minimum that the online donation system will accept, actually.)
Whether you're local and know of their great work, or far from New York and want to help the recovery effort somehow, this is a great way to give directly to a local organization that has an immediate need due to Hurricane Sandy serving my community's most vulnerable members.
Please comment to let me know when you give so I have a sense of how we're doing. Or you can put sandy AT experiential DOT net (you know, change that into a normal email address) in the "Notify someone by email" box when you make your donation, and I'll get that.
Thanks again for considering this. If you are giving to another organization that is helping with Sandy Relief, thank you for that. I have been truly heartened by the support, both local and long distance, that we in New York have received.