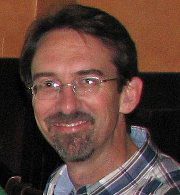 Patheos' Beer Guy, Frank Weathers
My husband and I took a rambling drive through the Oklahoma hills yesterday.
We wound around the Talihina Drive and ended up at Pete's Place in Krebs, Oklahoma. For those of you who don't know, that means we were well and royally fed.
I admired the beer menu, and the good folks at Pete's gave it to me. Here it is, for the perusal of all you poor folks out there who aren't Okies. (And, of course, Patheos' own beer connoisseur, Frank Weathers) I'm not a beer drinker, but those who are say that Pete's and Choc beer are beyond compare.