We were in legislative session when the sirens went off.
For the first time that day, the room fell silent. It was the kind of bottom-dropping-out, free-fall silence that occurs when people face their omnipresent dread.
Tornadoes are an omnipresent dread in Oklahoma. Their unpredictability, coupled with their potential for absolute deadliness are the source of our nightmares.
I don't personally know a single native-born Oklahoman who does not have tornado nightmares. Fear of these things is drilled into us from birth.
That the room fell silent when the sirens went off was predictable, especially in the Oklahoma House. We know that no matter where one of these things comes down, it will hit people that we are responsible for.
The silence was especially loud, coming as it did in the middle of an exceptionally noisy day. I learned as a child that horses run and pitch when a storm is coming. Any mother can tell you that children are unmanageable when weather is brewing. If yesterday means anything, the same thing must apply to middle-aged adults.
The Speaker gaveled us down repeatedly. He admonished us again and again to take our seats and maintain order so that the legislators who were explaining bills could be heard. Nothing he did affected the behavior on the floor at all.
Until the sirens went off.
That silenced us. One of us was on the mike, introducing a bill. After a moment's plunging silence, he said, "Get under your desks."
That broke the quiet as we all laughed.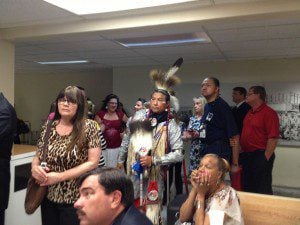 Not too long after that, we had to evacuate the House Chamber and go to the Capitol basement. Several Indian dancers had been performing in the rotunda when the storm hit. They trooped down and waited with us, amidst comments about rain dances that were too effective.
I watched the tornado form on the screen of the tiny tv in the capital snack bar with everyone else. It dropped at a town called Newcastle. These storms follow tracks, almost as if they actually were on rails. I knew that if this thing stayed together that South Oklahoma City (where I live) and Moore were in for it.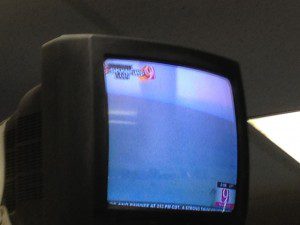 There are tornadoes. And then there are tornadoes.The ones that kill and destroy on a large scale stay down, move slowly and get bigger as they go. That's what I watched this tornado do. I'm not a meteorologist, but I've watched a lot of these things and I knew that this one was a killer.
There was absolutely nothing to do. The phones went dead. I sat down in a corner and waited. I knew people were being killed. I had no idea if my house or the houses of my friends were going up. The reports that were coming in over the tv were too confusing to tell. I did know that people I knew, had known all my life, were in grave danger.
I stayed in the basement until it passed. Then, I loaded up and left. It was raining, hailing. I ended up taking shelter at a Sonic drive-in for about 30 minutes. The traffic lights were out and the interstates had been closed, which resulted in traffic gridlock. I snaked around through back ways to get South. It took me an hour and a half to do what would normally be a 15-minute drive. A friend of mine who lived on the far side of the damage told me it took him almost seven hours to get home.
I was out of touch with the larger world for about 12 hours. No power. No water. But nobody hurt, either.
My district didn't get hit. My family is all ok, although some of them are without power and water. I have several friends who lost their homes, but they all got out of the way before it hit.
After the May 3 tornado in 1999 went through the same general area, we had a lot of orphaned pets — cats and dogs — who showed up. It was impossible to find their owners, so people adopted them and took care of them. I've already decided that our home will be open if a battered-up pet wants to come there.
I want to thank everyone who has texted or posted, asking me if I'm alright. Yes, I am.