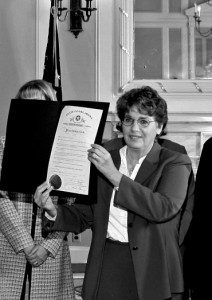 It seems I've run afoul of the atheist portal here at Patheos One. More. Time.
Nobody sticks in these folks' collective craw more than I do. They love to hate me and they love to trash me. If one of them was slowly slipping away, I think the doc could show them one of my blog posts to get their poor little heart started beating again.
I'm not sure how I do it, and to be honest, I don't care, but I do get under their skin. They react to me the way Tribbles react to Klingons.
I've studiously ignored this carrying on up to now, and I intend to go back to that same path as soon as I finish here. But I do have a small bone to pick with one of the more outlandish claims against me that has been published on that portal.
Dan Arel, who blogs at Danthropology, has a big case of outrage going over my recent blog post about the Prez. It seems that calling President Obama an idiot is a bridge too far for Mr Arel. That's his opinion, and he's welcome to it. Writing blog posts trying to get at me is also his call. It actually would be difficult for me to come up with a description of how little I care.
I'm not even all that exercised about the one point that I'm going to discuss here. I just think it leads into an important point that needs making.
In his outraged defense of the president, Mr Arel — as atheists seem wont to do — veers off into personal attacks against me. As often happens with personal attacks against me, he immediately goes into fantasyland and presents made-up nonsense as fact.
This paragraph is a case in point (emphasis mine):
Rebecca Hamilton is a former politician who spent her career attacking women's rights. Now it seems in retirement, her life will be no different. She does not think women are able to make the choices that are right for them and instead wants the President to give her and her religion the privilege of making these choices for you.
Oh me. Oh my. Such a big fat lie.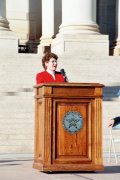 Here's just a sprinkling of things I've done (This is just off the top of my head. I'm sure there's more.) during my career-long "attack" on women's rights:
1. One of 6 founders of the first rape crisis center in Oklahoma.

2. Got first funding for statewide domestic violence shelters.

3. Author of the original protective order in Oklahoma.

4. Creator of the first statewide rape hot line in Oklahoma.

5. Authored legislation to allow rape victims and victims of domestic violence time off work for counseling, court visits, medical care without losing their employment.

6. Authored legislation to provide state funding for day care.

7. Authored legislation to make human trafficking illegal in Oklahoma.

8. Passed a law to keep rape victims' information private.

9. Host and co-creator of the Oklahoma Day of Prayer for an End to Violence Against Women.

10. Authored bill to stop doctors from paying women to allow their bodies to be harvested for eggs.

11. Authored bill to stop forced abortions.

12. Authored bill making it a felony to beat up a pregnant woman.

13. Authored bill outlawing female genital mutilation in Oklahoma.

14. Authored bill to make rape by instrumentation a crime in Oklahoma.
Lessee now. What might I have done that could possibly be construed as "attacking women's rights?????"
Tap, tap, tap …
Could it be the fact that I oppose abortion?
That's all I can think of. And it does fit.
Because in some people's minds, "women's rights" is abortion. They think that if you aren't in favor of abortion on demand, then you must be opposed to "women's rights." On the other hand, they think that if you favor abortion on demand, then that's all there is to women's rights.
Oddly enough, even in this, Mr Arel's hateful hyperbole overreaches the facts by a few miles. I opposed abortion in the second half of my career. During the first, pre-conversion half, I was the pro choice poster girl of Oklahoma. I've got enough Margaret Sanger awards and other pro choice attagirls from that phase of my life to paper the walls of my house with them. I was the de facto go-to person in the Oklahoma legislature for those who wanted pro life bills killed dead. And I delivered, because I was, as one of my fellow House members told me, "one hell of a legislator."
Before I was ever elected to office, I was the Oklahoma director for NARAL.
So puhllleeeezzzz Mr Arel, consider who you are tarring with your abortion-is-women's-rights brush. I know more about this issue — from both sides — than you will ever learn.
One of the things I know, and that I have learned to my horror and grief, is that abortion kills a living child. I can't tell you how devastated I was when I realized the full horror of what I had done during my anti-God years.
Not only was I shattered by my own crimes against humanity, but as a woman who cares deeply about women's rights, I felt trapped in a conundrum. How could I work to ensure women's rights and prevail in my life-long work to speak out for justice for womankind and still protect these unborn children's lives? That was the question.
I found the answer in the place where we all must look: The abundant mercy and love of our Lord and Savior, Jesus Christ.
Jesus is Lord of every life, whether the person acknowledges this or not. He loves Mr Arel just as much as He loves me, or you. He loves him and wants to offer him forgiveness and the free gift of eternal life just as He loves and cherishes the unborn child.
We are all His brothers and sisters, all God's children.
Jesus loves women with a special depth of love because He is the author of life and women are the bearers of life. We are His cooperators in the life force. He chose to be born of a woman Himself.
This does not mean that God intends His daughters to be limited to that one single role. We are not walking uteri. We are human beings, made in His image with all the hungers, desires and needs for significance, achievement and the fullness of life that men have. Diminishing us to the role of childbearing as if that was all there is to us is not God's plan. It is the devil's curse on humankind.
Misogyny is the human race, at war with itself. And abortion, which strips women of their uniqueness, is an attack on women's humanity at a profound level. Women should not have to chose between a murdered child and a ruined life. That, and not some nebulous "right" to murder both their own child and their own maternity is what women's rights should be.
Pregancy and childbirth should never be used as a weapon to terrorize women or limit their lives. Rather than ending this discrimination and misogyny, abortion cooperates with it. Abortion is just the old misogynist double standard, turned sideways. It puts the whole burden of human sexuality back on the woman once again.
I don't blame Mr Arel for being such a twerp about all this. He is, after all, both a man and an atheist, which is a combination that, based on my reading, seems to struggle with ideas of women's rights based on women's humanity. In fact, this group seems to struggle with ideas of intrinsic and universal human rights for any group of people. Based on things he's said and done, I would guess that he's also got a special hate going toward me.
All that adds up to a king-sized pair of blinders. When he puts forth the women's rights = abortion equation, he is repeating the mindless cant he's been taught around who knows how many intellectual campfires.
What I would like him to do is to take those blinders off, or at least peek around them, and see the love and compassion that Our Lord extends to him. Mr Arel is wrong about abortion, wrong about God and, in a far lesser question, wrong about me.
I wish him the best thing I could wish anyone, that he accepts the love of Christ and begins the journey to heaven. Whether he knows it, or wants to believe it or not, he is my brother; my lost and angry brother.
I pray for you Dan. You are a child of the living God.
Now, I'm back to ignoring the atheist portal.