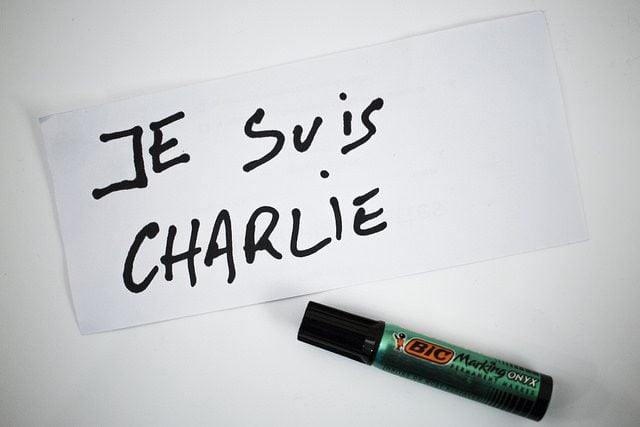 Photo Source: Flickr Commons, Francois Lacroix
I wrote a post a few weeks ago entitled,  The Murder of Innocents is Wrong and Every Human Being Knows It. 
That particular post was about murdering people with abortion and euthanasia.
I'm resurrecting that claim today in defense of the essential right to life of people who say and publish things that offend others. Specifically, I'm writing it in defense of the basic right to life of journalists and pundits who attack religious faith.
I've spent a bit of time castigating the Christian-bashing hate blogs and the Christian-bashing hate groups around the world, particularly here in the United States. I think they are crude, crazy-mean and destructive.
However, I also believe that they have a right to be crude,  crazy-mean and destructive, at least in their verbiage. I wish they had more couth. Or maybe a little bit of ruth. But if they chose to advance their position with uncouth, ruthless nattering, so be it.
They are human beings and as human beings, they have a right to freedom of expression, and, at a more basic and fundamental level, a right to life. It doesn't matter if they're crude and boorish. That's not even an issue when it comes to their fundamental right to be alive.
Let me repeat that: Every human being has a right to be alive. It is always wrong to kill innocent people. There are no exceptions.
It appears that we've gotten so accustomed to debating whether this or that group of people has a right to be alive that we're extending it beyond the already highly nebulous categories of the aged, the disabled and the unborn, and carrying it over, however indirectly, into those who are merely annoying.
The reason I say that is because I've read some astonishing comments — many of them on Facebook and other media sites — about the mass murder of people at Charlie Hebdo. I hope that most of these things are ill-considered, spur-of-the-moment, foot-in-mouth things. Because if they are considered, that is deeply terrible for the people who are saying them.
The gist of this nonsense is that, since Charlie Hebdo published insulting things about
Muslims
(and
Catholics
) why then, they pretty much got what they deserved. I'm simplifying, mainly because I don't have the stomach for going over this in detail, but that is the gist of it.
This is coming, predictably enough, from the right and left wing nuts of our society. Each of them, for different reasons, thinks that Charlie Hebdo's staff somehow or other abrogated their basic right to life as human beings by publishing offensive things.
I realize that the people who've said thee things are small in number. I know that the internet gives a platform to people who don't have the first clue how blood thirsty, cruel and flat-out disgraceful their utterances sound.
I also realize that anyone who would think like this is so far gone in their little g god worship of their ideologies that no one can hope to reach them by way of ordinary methods of persuasion. Whatever they once were, they have allowed themselves to become so besotted by their "cause" that they have lost the basics of common sense and decency.
What they overlook is one simple truth: You can't kill people. What I said in December still applies today. The murder of innocents is wrong, and every human being knows it. 
No human person has to justify their right to be alive. Murder is wrong. It does not matter how young the victim is, or how old, how disabled, or how offensive. People who tell bad jokes, don't bath, say insulting things and who vote for the wrong political candidate all have a right to be alive.
The fact that these discussions are rattling around the internet is appalling. I see it as a symptom of the deep moral confusion that is wracking our world.
Every human being has a right to life. It's that simple.