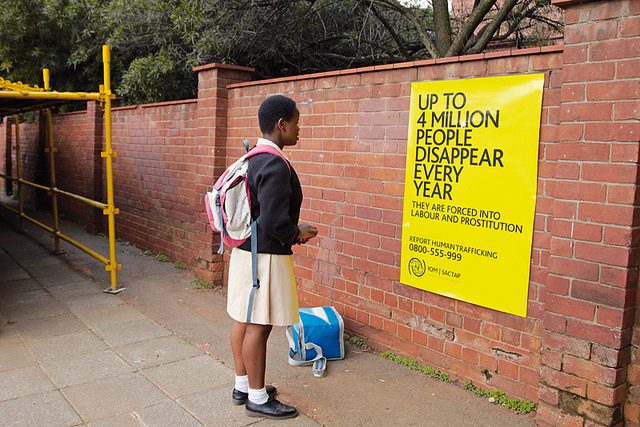 Public Catholic reader Ken gave me the link to this story.
According to Crux, the Vatican has announced an International Day of Prayer and Recollection Against Human Trafficking on February 8.
Slavery is on the rise, and a lot of people who think they oppose slavery are aiding and abetting it. I could write a series of posts on the ways in which those of us who oppose slavery with our words end up buying products made by slaves, hiring people who are slaves and, yes, using prostitutes who are slaves.
One of the things I've heard from human trafficking victims who have been sold as prostitutes is that they fear going to church because they will see men who have bought them there. This is a startling example of how low we can go.
Don't buy other people, and that means, among other things, do not use prostitutes. Also, do not hire people's services when they are sold to you on street corners.
We like to rant and rave about "illegal immigration" in this country. It comes up every four years in every off election, just like clockwork. Then, after the election passes, so does the concern. Remember last fall and all the carrying on about the invasion at the border? Where is that now?
But don't worry, it'll be back in four years for the next off-year election.
In the meantime, corporations bring people into this country illicitly to work on their farms and similar low-skilled jobs. No one is actually going to do anything about illegal immigration because there is money to be made from it.
Human trafficking gets lost in this political demagoguery and the corporatism that drives it. Slave labor is used on a massive scale around the globe. There is a distinction between free illegal immigrants who cross the Rio Grande to work in this country and people who are brought here and used as slaves. We tend to lump them together, but the difference is that one is a slave and the other is a free human being. This difference eludes a lot of people.
I'm not going to get into the question of hiring illegal immigrants in this post. All I will say is that I know — 
know 
— that we will never pass meaningful laws against the practice. The money interests don't want such laws, and the money interests control our government. I doubt that we can even stop money interests from knowingly using slave labor.
What is possible is for you and I to make an effort to do so. Small business people out there who hire day laborers, are oftentimes employing slaves without being aware of it. They don't have to commit this crime against humanity, if they are willing to work to avoid it.
The easy way to avoid using slaves is to simply refuse to hire people off street corners and through shady agencies. You might also look into the lives of the people you hire. If they go home to their own home, with their own family, if they go to church and sit out in the yard on Saturday night, trading stories with their friends and knocking back a few brews, chances are good that they are not slaves.
Human trafficking, which means slavery, is becoming increasingly ubiquitous. According to many news reports I've read, groups like ISIS finance their operations at least in part by taking civilian populations, including large parts of the local Christian populations, captive and then selling them as slaves.
Of course, they could not do this if other people didn't buy these slaves.
That's the equation with slavery. Someone must sell the slaves. And someone else must buy them.
We need to join with Pope Francis on February 8 in the International Day of Prayer and Recollection Against Human Trafficking.
We also need to do everything we can to make sure that we do not buy products made by slaves, and do not unwittingly use slaves in our businesses.
And oh yes, men should stop buying women and children off street corners to use for sex. When you buy a human being, that does not make them your date. It makes them your slave, and being a deliberate user of slave labor makes you a monster.