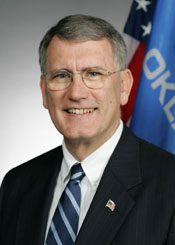 Representative Gary Banz told me that when I left, he wanted my parking place.
I understood that.
My parking place was fantabulous; right next to the Gov's parking place.
That's what happens when a Rep has more seniority than anybody else in the building. She gets whatever parking space she wants.
Did Representative Banz get "my" parking space? I dunno. I haven't been back to check.
I'm going to the Oklahoma State Capitol building for the first time since my son and one of his friends and I went out and loaded up my office and brought it home. That was, if memory serves, the Monday after the Friday on which we adjourned.
Oh, I've had phone conversations with people at the Capitol since then. Lots of them. And I've also had conversations with my former colleagues in the House and Senate. Lots of them, as well.
But I haven't set foot in the actual building, or driven by it, for that matter, since I brought my stuff home to stay.
But I'm going to the Capitol tomorrow. I'm going with a couple of friends, who, because of their health problems, I will drop off on the Senate side of the building where they can get in without climbing stairs, and then I'm going to wind back south and park far from the building in one of the visitor spaces.
I will then go in, meet up with my friends and begin handing out roses to the reps and sens I know.
Because tomorrow is Rose Day at the Oklahoma State Capitol.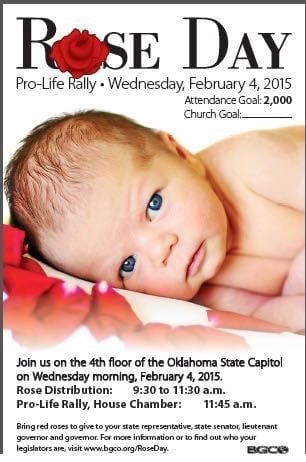 Rose Day is an annual event sponsored by pro life people, in particular the Oklahoma Southern Baptist Convention and Catholic Charities, which brings hundreds of pro life Okies to Oklahoma City to cheer on their pro life legislative heroes.
I loved Rose Day when I was in office. It was so nice to have people in the building who actually 
liked 
what I was doing by working to pass pro life legislation. The life of a pro life Democrat can be lonely, indeed. After some of the ugliness that happened to me, I drew into myself as a survival tactic. I just hunkered down and fought my way through the last half of my time in office.
Day after day, nobody asked me join them for lunch, nobody talked to me. When we stayed late in the evenings, I had friends from outside the legislature come pick me up for supper because I knew none of my colleagues would eat with me.
Rose Day was the one day that turned that on its head. For a couple of hours, I actually had friends inside that building.
That's why I'm writing this now. If you are a pro life Okie, you need to be at the Oklahoma State Capitol Building tomorrow. You need to let pro life legislators know that you appreciate what they are doing.
You need especially to look up pro life Democrats and encourage them, because, believe me, they won't hear another encouraging word all session long.
I'm going to Rose Day tomorrow as a spectator, rather than a participant. It will be my first time in a long, long time when I can't just swing into my parking space next to the door and hustle up to my office.
Tomorrow, I'm walking in from the South 40, and then I'm going to have to find someone who will let me leave my coat in their office for a couple of hours.
I am so looking forward to it. I plan to drop by and encourage every single pro life Democrat I know, and to hug many of the dedicated pro life Republicans that I know. I'll watch the inspiring program we have planned.
Then, I'm going to go back out to the South 40, get in my car, drive around and pick up my friends and we'll go out and celebrate. Because this year I don't have to stay. My time as an active participant in the legislative bear-and-bull-fight is over, and for that I am soooo grateful.
As for the pro life Okies reading this, be sure join me at Rose Day. Tomorrow is going to be a wonderful pro life celebration for all of us.