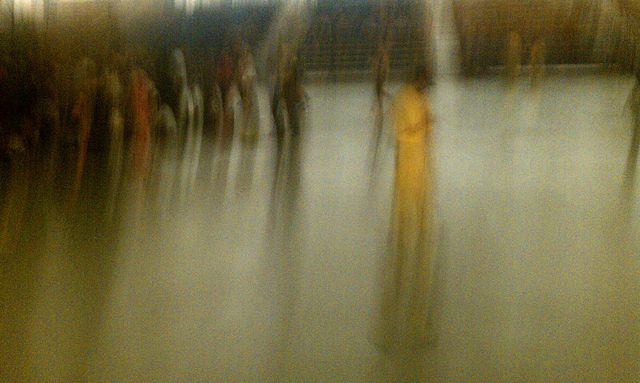 I pray a Rosary every Sunday for people in Purgatory. It takes quite a while, since I name every single person I know who has died, and I mean died, ever. I include great-great-grandparents I never met and friends of friends.
It's the least I can do for them. I only hope that when I die, someone will take the time to pray for me.
I don't know a great deal about Purgatory. But I do have a few surmises. These surmises are based on an experience of my own. I believe that God gave me part of my Purgatory now, in this life. What I will describe here are the ideas about Purgatory I gained from that experience.
What that means to you, dear reader, is that nothing I am about to write is official Church teaching. It comes from a personal experience and my private interpretation of that experience. If reading it edifies you, good. If it doesn't, no matter. These are just my thoughts.
 It is a terrible thing to experience the other side of the evil you've done to the people around you. I believe that is what happens to us in Purgatory. Everything we do, every small act of kindness, every cutting word, every hurt we've inflicted on others, every joy we've brought to them, matters.
We are forgiven for our sins, but we aren't always healed of what committing them has done to us. Heaven wouldn't be very heavenly if we took our petty malice, gossip and grudge-holding with us when we went there. Even the best of us is unfit for heaven when we die. I believe that Purgatory is the transformation process that fits us for heaven. Part of that cleansing has to be facing up to who we really are.
Purgatory is bearable because it's temporary and because it heals us ultimately and completely. Our salvation is assured when we turn to Christ for forgiveness. He washes the stain of sin from our souls in that instant. But we are still fallen people, living in a fallen world. Conversion on this side of heaven consists largely of failing down and getting back up again. The outward sign of conversion is a changed life. The interior mark of conversion is not perfection, it is trust.
As St Paul said, "I know whom I have believed, and I am confident that He is able to keep that which I have entrusted to Him against that day."
Purgatory does not limit or grant eternal salvation. We already have eternal salvation when we enter Purgatory. What Purgatory accomplishes is the final clearing away of the detritus of our fallenness. It strips off the old torn and spotted garments of our finite existence and clothes us in our eternal garment. It transforms us into heavenly beings, fit for a King.
There are many theories about Purgatory, all of them far more authoritative than mine. But my belief is that in Purgatory we face what we have done from the viewpoint of those we did it to. If, say, you hit someone, in Purgatory you would experience the blow you gave in this life. If you gossiped about someone, in Purgatory you will feel the humiliation and hurt your words inflicted.
It would be terrible enough to experience this in this life. But in Purgatory, I think our souls will be so tender and so pure that the pain will be even more exquisite.
The souls in Purgatory are not being tortured. They are being educated about their real selves. They are seeing themselves as they are, and this insight hurts. It is the deepest grief imaginable to confront the full reality of your own sins. But from this grief comes conversion of a thorough and unalterable kind.
That is true, even here in this fallen world while we struggle with the many weaknesses of our flesh. In Purgatory, when we are naked spirits, it will be absolute. The best way to describe my understanding of Purgatory is that Purgatory is where our conversion to Christ that we began in this world is completed and made perfect.
Today Jesus tells us to bring to Me the Souls who are in the prison of Purgatory and immerse them in the abyss of My mercy … All these souls are greatly loved by Me … It is in your power to bring them relief.
It is yet another miracle of grace that we can, while we are still here in this Earthly existence, reach across the divide to aid those in Purgatory.
Please pray the Divine Mercy Novena with us today. Bring your loved ones who have died and are now in Purgatory to Jesus and immerse them in His Mercy.
Eighth Day
"Today bring to Me the Souls who are in the prison of Purgatory,

and immerse them in the abyss of My mercy. Let the torrents of My Blood cool down their scorching flames. All these souls are greatly loved by Me. They are making retribution to My justice. It is in your power to bring them relief. Draw all the indulgences from the treasury of My Church and offer them on their behalf. Oh, if you only knew the torments they suffer, you would continually offer for them the alms of the spirit and pay off their debt to My justice."   

Most Merciful Jesus, You Yourself have said that You desire mercy; so I bring into the abode of Your Most Compassionate Heart the souls in Purgatory, souls who are very dear to You, and yet, who must make retribution to Your justice. May the streams of Blood and Water which gushed forth from Your Heart put out the flames of Purgatory, that there, too, the power of Your mercy may be celebrated.

Eternal Father, turn Your merciful gaze upon the souls suffering in Purgatory, who are enfolded in the Most Compassionate Heart of Jesus. I beg You, by the sorrowful Passion of Jesus Your Son, and by all the bitterness with which His most sacred Soul was flooded: Manifest Your mercy to the souls who are under Your just scrutiny. Look upon them in no other way but only through the Wounds of Jesus, Your dearly beloved Son; for we firmly believe that there is no limit to Your goodness and compassion. Amen.