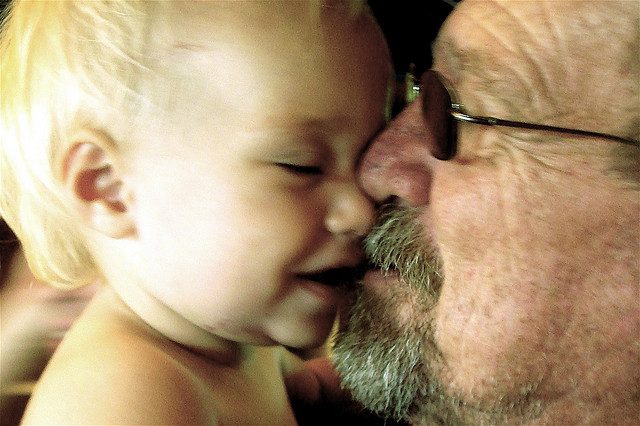 If you do not become be converted and become as a little child, you shall not enter the Kingdom of heaven … And whoever receives a little child in my name receives me. But it would be better for those who harm one of these little ones if a millstone was hung around their neck and they were cast in to the sea. Jesus Christ
Today we pray for the little children and souls of those who are meek and humble. In other words, we pray for the innocents and the good people of this world.
Humbleness of heart is the opposite of narcissism and self-deification. Humble-hearted people do not seek to re-write the teachings of the Gospels to say their sins are not sins; they simply do their best to obey those teachings.
Children trust with a profound trust. They believe and build themselves on that belief.
These things truly do mirror Jesus' own heart. The human Jesus did not rely on human understanding when the devil tempted Him in the wilderness. Instead, He quoted Scripture in reply to satan's taunts and relied entirely on God.
He could have walked away at Gethsemane. He didn't need 2,000 angels to battle for Him. All He had to do was get up and run; leave Jerusalem and take His ministry elsewhere.
But He did the stupid thing and stayed. In obedience.
He was God, and yet He obeyed God. That is the confounding truth of God made human. It is why His sacrifice purchased our redemption. He Who was sinless, paid the price for our sins, and He did it in obedience, the obedience of a humble human soul.
There are those in our society who do not view innocence as a call to offer their protection. They view it as an opportunity. They view the trusting innocence of children as an opportunity to change our culture with pernicious programs in our schools. They see innocent people as rubes to be misinformed by propaganda posing as news, laws written for the powerful that steal from them, and a plethora of other abuses.
They look on innocence in the womb and deny that what they are seeing is a fellow human being whose life by every understanding of human rights should be protected. They consider the new innocence of our elderly and infirm and see a burden and an expense that could easily be eliminated with euthanasia.
Innocence is not a protection in our society because the wolves are in charge. In this world, innocence is an opportunity to abuse, exploit and kill.
The humble of heart and the innocent thus seem like the world's victims. And yet, Jesus tells us that if we want to enter the Kingdom of Heaven, we must become converted and be innocent ourselves. If we want to be forgiven, we must bring "a humble and contrite heart" to Him, because Scripture tells us He will never refuse such a heart.
The key to eternity is in the hands of the innocents that we use, abuse and kill; in the hearts of the humble we scorn.
In the world that is coming, these are the ones who will be lifted high. While those of us who prance about and posture in the many conceits of our possessions, power and accomplishments will be blessed by God's Mercy if we get in at all.
Today Jesus asks us to bring to Me the meek and humble souls and the souls of little children … (they) most closely resemble my own heart.
Today, as we pray, we should bring to Him the unborn, the babies, the little children, the elderly wandering in their fog of dementia, the humble woman next door whose horizon is her family for whom she gives her life, the sweet man down the street who goes to work and comes home and is always ready to help you out.
Bring to Him the simple souls, the salt of the earth on which all stability and kindness in human society is built. Bring to Him the good people without whom this world would be a living hell. They, and not the glitzy power brokers and difference makers are what make life livable. They are the only goodness humanity has to offer.
Pray the Divine Mercy Novena today. Bring the good people to Him and immerse them in His mercy. While you're at it, ask Him to make you more like them yourself.
Sixth Day
Today bring to Me the Meek and Humble Souls and the Souls of  Little Children,
and immerse them in My mercy. These souls most closely resemble My Heart. They strengthened Me during My bitter agony. I saw them as earthly Angels, who will keep vigil at My altars. I pour out upon them whole torrents of grace. I favor humble souls with My confidence.    
Most Merciful Jesus, You yourself have said, "Learn from Me for I am meek and humble of heart." Receive into the abode of Your Most Compassionate Heart all meek and humble souls and the souls of little children. These souls send all heaven into ecstasy and they are the heavenly Father's favorites. They are a sweet-smelling bouquet before the throne of God; God Himself takes delight in their fragrance. These souls have a permanent abode in Your Most Compassionate Heart, O Jesus, and they unceasingly sing out a hymn of love and mercy.
Eternal Father, turn Your merciful gaze upon meek souls, upon humble souls, and upon little children who are enfolded in the abode which is the Most Compassionate Heart of Jesus. These souls bear the closest resemblance to Your Son. Their fragrance rises from the earth and reaches Your very throne. Father of mercy and of all goodness, I beg You by the love You bear these souls and by the delight You take in them: Bless the whole world, that all souls together may sing out the praises of Your mercy for endless ages. Amen.