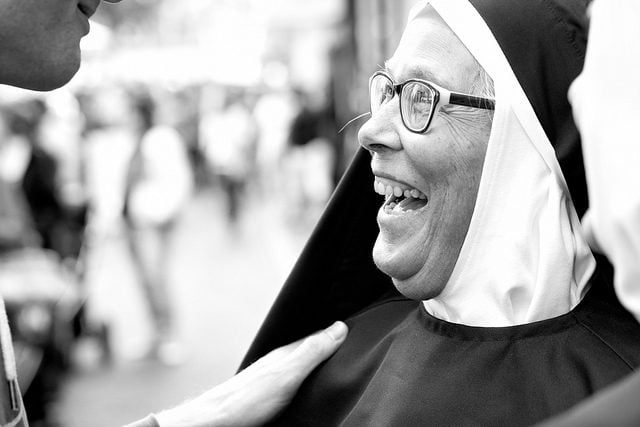 Legislators can be dismissive of clergy.
In fact, elected officials are, whether they will admit it in public or not, downright cynical about collared folk. Anyone who's been through a political campaign and had the experience of a member of the clergy lying about them from the pulpit is bound to be changed by the experience.
In my young life, I've had clergy of many denominations stand behind the pulpit and call me everything but a nice person. Much of this was back in my anti-religion period when I was pro choice.
They did not confine themselves to the fact that I was pro choice. They claimed variously that I owned whole chains of abortion clinics, was a communist/prostitute/lesbian/whore/slut etc, etc, etc.
Then, when I experienced the love of Christ and converted, when I began to do my best of make up for the harm I'd done by being pro choice, I got attacked by clergy from the other side of the spectrum. They accused me of criminality (which made them lawsuit bait, btw), hating women/hating men/being in favor of rape, and, of course, sexual promiscuity and having had many abortions.
Notice that the lies always included sexual slurs. I think there's a reason for this, given that I am female and the clergy who attacked me were all male. But I won't go into it here. Just use your imagination.
Most elected officials end up being attacked by clergy at some point in their careers, and most of the time these attacks are among the most vicious and dishonest they experience. So, when a member of the clergy shows up to lobby for something or other, politicians tend to regard them more as other politicians than men and women of God.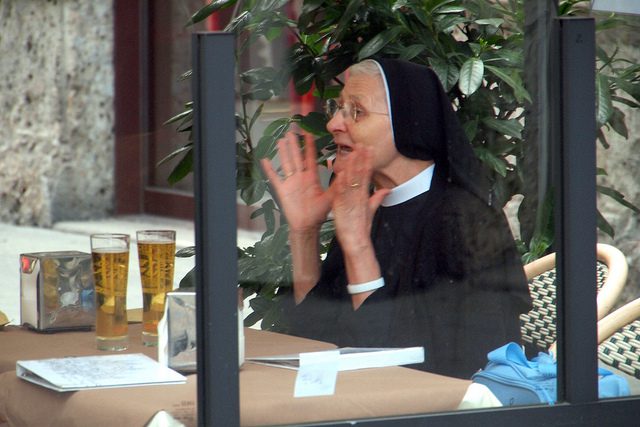 Not so with nuns. The reaction a group of hardened and cynical legislators has to a nun, particularly a nun wearing a habit, is absolutely startling. The reason why is simple. They believe that the nuns are for real. They don't see them as another political power player. They see nuns as genuinely holy people.
This leads me to the post that my colleague, Sr Theresa Aletheia Noble, published today. It's an account of an encounter she had with a young man who had recently been released from prison. She writes,
Filled with the chutzpah that only an Italian background and the Holy Spirit can give you I rap on his window. He turns toward me with an unfriendly glare.

"Hi!" I say brightly, fully employing my "naive nun" routine, "Your mom wanted me to meet you."

After a few moments, the man hesitantly opens the car door without looking at me.

He stays in his seat.

I wait, knowing I cannot really talk to him if his eyes stay glued to the steering wheel.

I realize that he is just as afraid of me as I am of him.

After an awkward moment he gets out of the car. I notice a tattoo on his neck in bold script: "La vida es sufrir" (life is suffering).

He moves uncomfortably from side to side.

I touch his arm and say, "I've been praying for you and I will keep praying for you. Feel free to come by to talk anytime. We have a chapel that you can visit."

He takes his sunglasses off and squints in the sun, grinning slightly.

I just look at him intently as if to say, "I'm know this invitation seems absurd, but it still holds."

We look at each other in silence for a few more seconds.

I wave and walk back to the bookstore, his mother close behind me. As I walk, I realize that, despite appearances, there is really not much that separates me from this mother's son. Whatever he does, whatever he is involved in, it seems like it is only a few steps away. I can almost touch it. In some mysterious way I almost feel that I am him. In that moment something about my vocation clicks.

I am a sister: a sister to Jesus, a sister to gangbangers, a sister to grace, a sister to sin.
Nuns, sisters, especially when they wear clothing that makes it clear who they are, have a vocation that even they may not be aware of. They are a visible sign and a presence of God's grace in this world.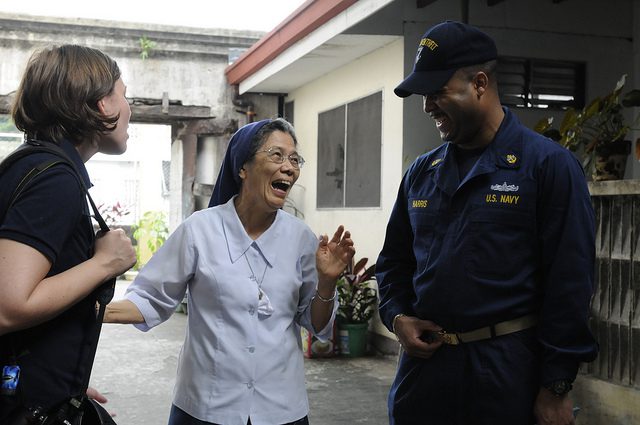 Would this young man have opened his car door for a priest? Probably. But the encounter would not have been the same. There is a unique and irreplaceable personal power in the feminine that no priest can possess. There is also the public perception of nuns and sisters as people who are authentic in their commitment to Christ, who are, in fact, holy.
I dealt with people like this young man on a daily basis all the 18 years I was in office. I also dealt with frightened people, people outside the law in many ways, and victims of those outside the law.
I can't remember one time when a frightened or lawbreaking person turned me away when I approached them. There was never a time when they offered me harm. There were many, many times when they came to me in trust and desperation; unafraid to confide in me, trusting absolutely that I would not betray their confidences, that I would help them in whatever way I could.
That is the power of the feminine, even without a habit. It is the power of mother love, even in a government situation.
Nuns are an irreplaceable component in the Church's structure. Without them, the ministry of the Church becomes too male to be truly functional. That is because men are not the human race. They are half of what we are as humans. Women and men together are the human race. Anything less is shorn and weak; a quasi-functional subpart of the damaged whole.
Without nuns, the Church is like a human heart, struggling to beat, even though it's cut in half.