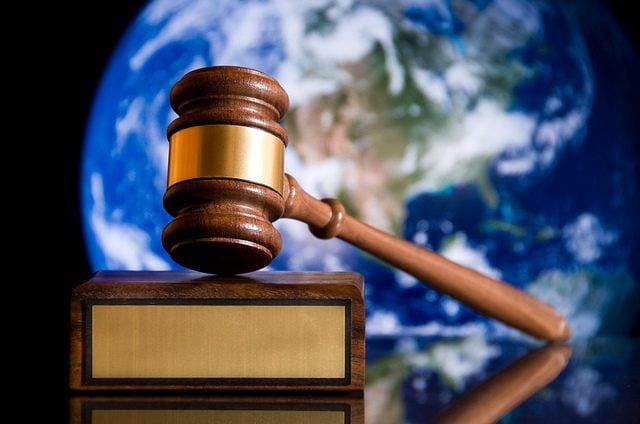 Today, the United States Supreme Court ended marriage as a stable legal institution in the United States of America.
In flowery language that often sounds like it came from a Harlequin Romance, the decision quotes everybody from Confucius, to Cicero to Alexis de Tocqueville, to the American Association of Psychiatry.
Here's a sample:
The centrality of marriage to the human condition makes it unsurprising that the institution has existed for millennia and across civilizations. Since the dawn of history, marriage has transformed strangers into rela- tives, binding families and societies together. Confucius taught that marriage lies at the foundation of government. 2 Li Chi: Book of Rites 266 (C. Chai & W. Chai eds., J. Legge transl. 1967). This wisdom was echoed centuries later and half a world away by Cicero, who wrote, "The first bond of society is marriage; next, children; and then the family." See De Officiis
The Court attempts to justify what is in fact the creation of new law. It also overturns its own ruling of a couple of years ago that marriage should be left to the states. Needless to say, a bit of reaching is involved in this legal sophistry.
The decision actually goes past new law creation and claims an almost seer-like knowledge of the minds of the plaintiffs. It then bases this huge decision of the United States Supreme Court at least in part on what it believes it sees in the plaintiff's hearts.
I want to be clear. The Decision actually uses the Justices personal impressions that the petitioner's motives are pure as a reason for the findings of the decision itself.
Were their intent to demean the revered idea and reality of marriage, the petitioners' claims would be of a different order. But that is neither their purpose nor their submission. To the contrary, it is the enduring importance of marriage that underlies the petitioners' contentions. This, they say, is their whole point. Far from seeking to devalue marriage, the petitioners seek it for themselves because of their respect—and need—for its privileges and responsibilities.
We are treated to a spot of history about women's rights, which is irrelevant since the situation Justice Kennedy describes was remedied at the state level. Then, we are reminded that marriages were once arranged, even though the Decision concedes that this has never been a legal construct of marriage in America. It doesn't state, as it should, that this makes the consideration bogus.
When Justice Kennedy finally starts to reference the law, he goes immediately to the right of privacy that the Court created in Roe v Wade. In a deep irony, the findings of Roe concerning the then newly-created right of privacy are used to destroy marriage in America.
The decision spends quite a bit of time explaining that the Constitution is an elastic document and that finding new "rights" in it is within the purview of the Court. That is where it places most of its legal arguments.
The actual arguments it articulates for "finding" a right to gay marriage in the 14th Amendment are all touchy-feely, emotional stuff. They also reference hardships and problems which are easily solvable without this draconian decision.
The decision wastes a bit of gas emphasizing the "two people" construct of marriage. But it does not define marriage as such. In fact, it does not define marriage as anything other than an emotional bonding between undefined persons who are empowered to legal rights concerning this bonding by a new right to "individual autonomy" and a previously court-created right to privacy.
And even that is not a definition. It's just the way the Court talks about marriage.
Under this ruling. marriage is whatever an individual or group of individuals, exercising their right to "individual autonomy" and their right to privacy say that it is. The ruling specifically addresses gay marriage, but the way it does it opens the door to anything and everything at all.
Since the Court appears to "find" rights in the Constitution independent of the document itself, we won't have long to wait before the complete destruction of marriage becomes a fact. Any attempts to impose definitions and limitations on marriage, to create a legal entity called marriage that is recognizably something real, is going to run smack into the arguments created in this Decision.
Marriage has become a private, rather than a legal matter. At the same time, it has also become a supremely legal matter. Marriage is now a 14th Amendment dueling point which will be pitted against every other right given to Americans in the Constitution. The First Amendment freedom of religion is, of course, the most endangered. But once it is vanquished, others will follow.
The Court has done it again.
It has set this nation on a course of decades-long culture war. This vague and destructive decision does more than create a new kind of marriage. It recreates marriage entirely by making it subject to a "right to individual autonomy" and a "right to privacy." This newly-created type of "marriage" is not marriage at all. It is an elastic construct with no boundaries, fixed definitions or even an actual predictable existence.
It's a lengthy decision. I can't critique it in full in a blog post. You can read it for yourself here.
Suffice it to say that marriage is now meaningless under the law.
The Supreme Court has done more than create a new kind of marriage. It has enshrined cultural nihilism in the Constitution.