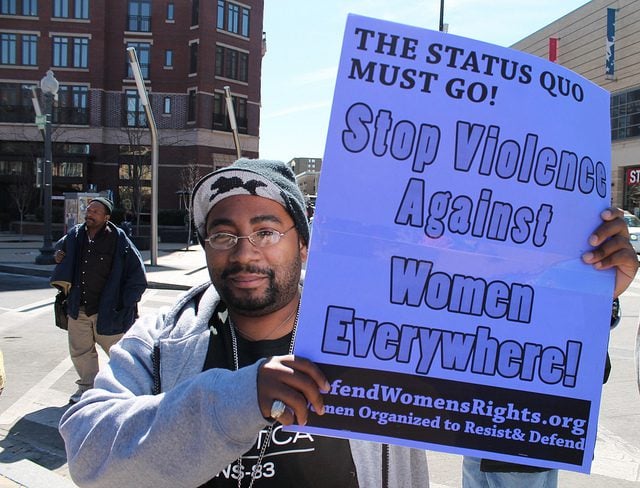 I've spent a fair amount of my adult life, trying to help rape victims.
I was one of the six original founders of the YWCA Rape Crisis Center here in Oklahoma, the first such center in the state. I have passed a ton of legislation to help end the scourge of violence against women, including more than a few laws to help rape victims. I spent a number of years on the board of an organization that rescued women who were victims of sex trafficking.
I know that many women, including most rape victims, are affronted by the story of St Maria Goretti. This one story becomes for them a symbol of what they believe is the Church's utter blindness to the reality of rape and what it means to women. The way St Maria Goretti has been presented to them is certainly why.
A few years back, I was making a speech on the subject of violence against women and I said, "This is for those who lie in the field, the lake, the dump and the shallow grave. It is for the ones whose bodies will never be found, whose names will go unrecorded; for the forgotten, unidentified, unfound women who died at the hands of their attackers." I say that again now.
Rape is a crime of extreme violence and dehumanization. It is so ubiquitous that fear of it forces half the human race to live in constant vigilance, in a sort of war zone mentality.
St Maria Goretti disturbed rather than comforted every rape victim I have dealt with who knew about her. The reason lies in the dual impressions taken from her story that (1) The Church is teaching that is better to die than suffer rape and live, and, (2) The Church is teaching that if a woman really wants to, she can avoid being raped.
Both these ideas are cruel and misogynist to the core. Rape is a crime of extreme violence. It is committed by bigger and stronger people against physically weaker people because the weaker person cannot successfully defend themselves.
The purpose of rape is to reduce another human being to an object, to destroy their humanity and lower them to the level of meat. Gang rape also has the effect of bonding the guys together as part of their sadistic recreation.
I've read the blog posts of my two colleagues Michelle Arnold and Simcha Fisher. Both of their discussions of Maria Goretti's short life and death are couched in language and a manner that reflects the fact that they understand and are sensitive to the feelings of women.
Many rape victims find St Maria Goretti, or at least the way she has been shown to them, to be a further affront to and attack on their dignity and value as human beings. This alienates them from the Church.
The crux of the problem with this saint is that misogynists have gotten control of her story. They have depicted her as girl of no real value in herself who became a saint because she chose to die rather than forfeit her hymen, and who then forgave her attacker who — get this — was so moved by her piety that he became a priest. (Actually, he became a gardener at a Franciscan friary or monetary, but that is not how the story is told to young girls.)
This manner of discussing Maria Goretti is right up there with the old story about the woman who stayed with her husband who beat her and suffered his battering prayerfully and piously right up to and including when he beat her to death. The murdering hubby was then so impressed by her piety that he — you know it's coming — became a priest.
I've actually heard this latter story being told to young girls and women since I converted.
That's sick stuff folks. It defames Christ to pin this misogyny on Him. Women's lives matter more than any part of their anatomy. Their human dignity is real human dignity. It cannot be fluffed off with instructional tales of women who die to save their virginity and who sacrifice their lives by letting their husbands beat them to death.
This nonsense places the blame for the batterer and rapist's behavior squarely on the shoulders of the battered and the raped. Somehow, women are, according to these stories, responsible for avoiding rape and converting their batterer by submitting to beatings.
If they fail in this, then, the implication is that they didn't fight hard enough, resist long enough, pray hard enough, or submit piously enough. Not only that, but they are responsible for converting their rapists and batterers by how they die.
This notion of martyrdom is not martyrdom at all. It is a method and a means of enforcing and justifying social injustice against half the human race by the other half.
That is the rape victim's perception of St Maria Goretti as she has been presented to them. That is the view of far too many women when it comes to the Church and what they can expect from it if they are themselves raped or battered.
I'll leave the apologetics about St Goretti to Michelle and Simcha. They did a fine job.
I'm going to use my internet space to do a bit of apologetics for rape victims. Personally, my heroines are the ones who smash the guy's nose and run for it. My heroines are the ones who crawl out of the dump where they were left for dead and rebuild themselves into productive and full human beings.
I've said a lot in opposition to divorce, but men who beat their families don't deserve families. I think every battered woman should dump the dude. Every. Single. One.
My heroine is the woman who says you can't treat me like that and gets the bleep out of Dodge. My heroines are the women who assert their own right to life and humanity in the face of those who would deny it.
I never want to see any young girl die for her virginity. Her virginity is not a physical thing. It's a matter of spiritual purity, and the rapist, with his beer breath and disgustingly filthy heart, cannot touch that.
My advice to women who are confronted with the savage violence of the rapist is simple: Do what you have to do to survive. If submitting will get your out alive, submit. If you have to kill him to survive, do what you must. Fight, if you can. But if you can't, don't let the jerks of this world make you feel bad about it later.
Women's lives are real lives. Their humanity is real humanity. Survival in the face of bestial behavior is not a sin. It is a virtue. It is also a God-given mandate.