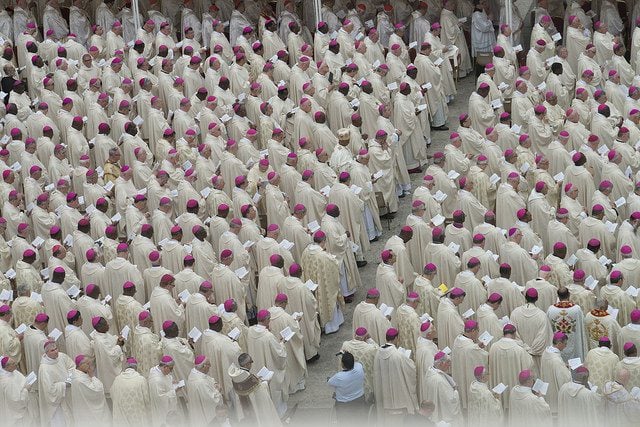 Mary Rezac, at Catholic News Agency, wrote a pithy summary of the German bishops' efforts to change pastoral practice within the Catholic Church as it applies to marriage.
Here's part of what she said:
Ok everyone, last German bishops blog for the duration of #Synod15! (At least, I think. I hope?)

As they near the end of an eventful three weeks, the 13 small groups of the Synod on the Family, divided by language, have released their last reports before the conclusion of the meeting on Sunday.

For those of you just joining us, the German-speaking group of bishops has been in the spotlight during the Synod as some of the main proponents of what has become known as the "Kasper proposal", by which Cardinal Walter Kasper has promoted allowing some divorced-and-civilly-remarried Catholics to receive sacramental Communion after a 'penitential path', among other controversial proposals.

This proposal has been shut down multiple times by the Church over the years, and yet, it continues to crop up, particularly amongst German bishops. Hence this blog. And this one. And this one. Oh and also this one. 

In their small group report on the third part of the synod's working document, the German bishops suggest that divorced-and-civilly-remarried couples discern in the "internal forum" their ability to receive the sacraments, following their conscience and aided by their confessor. Read the rest here.