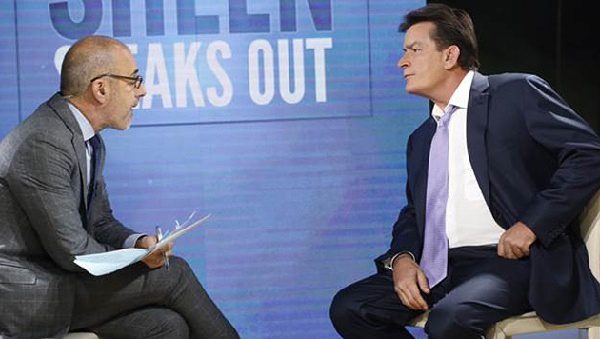 Actor Charlie Sheen has announced that he's HIV positive.
To be honest, I was a bit confused by all the hoopla surrounding this. Charlie Sheen, the poster boy for dissolute living, with the big daddy of STDs? No surprise there.
Then, I watched a YouTube video of his announcement. The poor man's a mess. He needs our prayers, as do the others who must live with this cunning virus.
I wrote about this for Catholic Vote. Here's part of what I saidxt:
So, Charlie Sheen announced he's HIV positive.

My first reaction when I read the headline was big yawn. Mr Sheen has bragged about his sexual promiscuity. He's made millions playing characters that are a watered-down version of his real-life self. Add to that his equally well-known problems with alcoholism and drug addiction and, well, big yawn.

His life is like a walking how-to video on how to contract STDs and trash your health. The fact that he's contracted the HIV virus is no big whoop to me.

I was flummoxed as to why this was such big news. Then, I watched a YouTube video of his "confession," and I saw why. This poor man has been hiding in shame from his HIV status. According to his statements, he's allowed himself to be blackmailed to the tune of millions of dollars in an attempt to hide the truth.

After watching the video, I, as usual, felt sorry for Charlie Sheen. His demons are terrible ones. He is afflicted with the ubiquitous plague of drugs, alcohol and dissolute living, which is a recipe for self-destruction. It also seems that he's — for some reason — burdened with crippling shame because he's infected with a virus that is often transmitted through sexual contact.

That might make sense if he was a monk who had been pretending to be celibate and got his lies found out. But Charlie Sheen brags about his "goddesses." His wildly self-destructive self has been on every media outlet, flaunting the delusions and insanity of alcoholism and drug addiction. STDs, including HIV, are not a big reveal where Charlie Sheen is concerned. They are the logical next step in his life path.

– See more at: http://www.catholicvote.org/so-charlie-sheen/#sthash.EpjhAvVd.dpuf