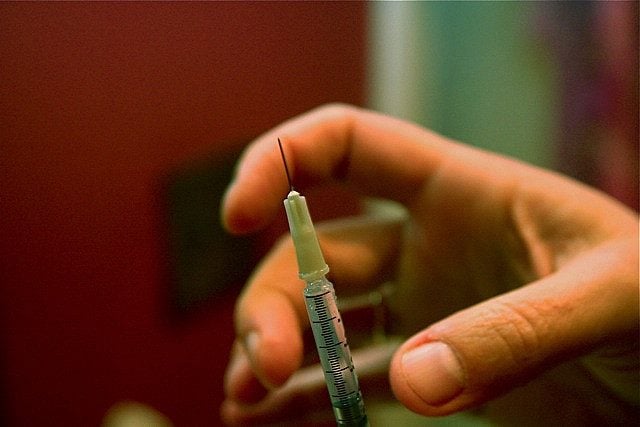 According to the Independent, the first tests of a potential coronavirus vaccine are promising.
The vaccine, which was developed by American scientists, generates enough antibodies in mice to protect them from the COVID-19 (coronavirus) Virus. It takes about two weeks for the antibodies develop.
The next step is to apply for permits to begin testing the vaccine in humans.
This does not mean that a vaccine will be available right away. In addition to the testing that is necessary, the vaccine would have to be produced on a mass scale and delivered so that mass inoculations could begin.
From the Independent:
A potential coronavirus vaccine developed by US scientists has been found to produce antibodies capable of fighting off Covid-19 in the first peer-reviewed study of its kind.

The vaccine, which was tested on mice by researchers at the University of Pittsburgh School of Medicine, generated the antibodies in quantities thought to be enough to "neutralise" the virus within two weeks of injection.

The study's authors are now set to apply to the US Food and Drug Administration for investigational new drug approval ahead of phase one human clinical trials planned to start in the next few months.
From The New York Post:
Scientists at the University of Pittsburgh School of Medicine believe that they've found a potential vaccine for the new coronavirus.

The researchers announced their findings Thursday and believe the vaccine could be rolled out quickly enough to "significantly impact the spread of disease," according to their study published in EBioMedicine.

The vaccine would be delivered on a small, fingertip-sized patch. When tested on mice, the vaccine produced enough antibodies believed to successfully counteract the virus.

The scientists say they were able to act fast because they had already done research on the similar coronaviruses SARS and MERS.

"These two viruses, which are closely related to SARS-CoV-2, teach us that a particular protein, called a spike protein, is important for inducing immunity against the virus," read a statement from co-senior author Andrea Gambotto, M.D., associate professor of surgery at the Pitt School of Medicine.

"We knew exactly where to fight this new virus."

The vaccine follows the traditional approach of ordinary flu vaccines, using lab-made pieces of viral protein to build immunity.

While the mice have not been studied over a long period of time, the vaccine was able to deliver enough antibodies against the coronavirus within two weeks, according to the researchers.

The study's authors are now applying for an investigational new drug approval from the US Food and Drug Administration. They hope to start human clinical trials within the next few months.