Christmas Meditation 4
From Heavenly Riches to Mean Estate
Martin Luther's Christmas Meditation
In this Christmas Meditation, we remember that the baby Jesus was found lying in a manger of "mean estate.," You may recall the carol, "What Child Is This?"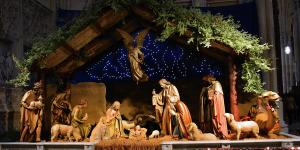 Why lies He in such mean estate,
Where ox and ass are feeding?
Good Christian, fear, for sinners here
The silent Word is pleading.
Here "mean" means lower class, poverty stricken, vulnerable to victimage.
Unlike like the religions of Egypt, Babylon, or Rome, the God of Israel does not identify with the pharaoh, king, or emperor. Rather, the God of Moses and Jesus identifies with the poor, lonely, and downtrodden. In the Christmas story, God identifies with a vulnerable baby crying for a diaper change.
"Only what is assumed can be redeemed," said Athanasius in On the Incarnation of the Word.
"Το γαρ απρόσληπτον και αθεράπευτον."
Or, for that which is not taken up (or assumed) is not healed.
When we feel impoverished, alone, vulnerable, and even hopeless, the Holy Spirit offers to place the living Christ within our soul. What happens in your and my soul is a repeat of what happened to our fallen world on the first Christmas, when the Holy Spirit placed the eternal God within the temporal finitude of our world.
Martin Luther's Christmas Meditation
 Martin Luther writes. "The history is written for us that we might learn to take to heart this picture, how our dear Lord Jesus was born on earth in such poverty, and that we might never forget it, especially since we learn from the sermon of the angel that it was for our good. For here we see the great and wonderful work of God, that for the sake of poor, wretched humanity He lets His only begotten Son take upon Him human nature and become truly human, and as such endure all weakness and misery, nay take upon Him even our sins, though without sin in Himself, and become a sacrifice for them, in order that we might learn to thank and praise God for this great benefit, that we poor, wretched, nay even condemned persons, today attain to such great honor of becoming one flesh and blood with the Son of God."
From heaven above to earth I come…
In his post, "Martin Luther and Christmas," Patheos columnist Scott McKnight reminds us that Luther made the Christmas story a significant aspect of his biblical theology whether in songs, sermons, essays or letters. Luther's best-known Christmas carol is "From Heaven Above" written in 1535. "The setting is sweet," writes McKnight. "His young children were planning a little pageant to perform and asked their father to write a song for it. Luther quickly came up with a whopping 15 verses, which tell the Christmas story told from the perspective of the angels in the field. Here are the first three stanzas.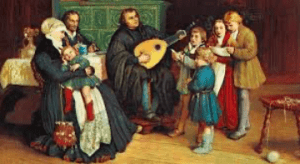 From heaven above to earth I come
To bear good new to everyone;
Glad tidings of great joy I bring
Whereof I now will say and sing:
To you this night is born a child
Of Mary, chosen mother mild;
This little child, of lowly birth,
Shall be the joy of all the earth.
Ah, dearest Jesus, Holy Child,
Make thee a bed, soft undefiled,
Within my Heart, that it may be
A quiet chamber kept for thee.
Our Christmas Meditations Thus Far
Christmas Meditation 1: God Desired a Harlot with St. John Chrysostom
Christmas Mediation 2: The Word Became Flesh with St. Augustine
Christmas  Mediation 3: Truth at Christmas with St. Augustine
Christmas Mediation 4: Mean Estate with Martin Luther
Conclusion
On the first Christmas eve, the entire world lay in mean estate. Relative to heaven, each of us on earth lie in mean estate. With the birth of the baby Jesus, now God too lies in mean estate. That's where we get our word, "Emmanuel," meaning, "God with us."
Merry Christmas.
▓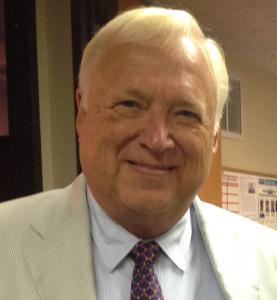 Ted Peters is a Lutheran pastor an emeritus professor at the Graduate Theological Union., He co-edits the journal, Theology and Science, with Robert John Russell on behalf of the Center for Theology and the Natural Sciences, in Berkeley, California, USA. His single volume systematic theology, God—The World's Future, is now in the 3rd edition. He has also authored Sin: Radical Evil in Soul and Society as well as Sin Boldly: Justifying Faith for Fragile and Broken Souls. See his website: TedsTimelyTake.com.
Watch for Ted's new 2023 book, The Voice of Public Theology, published by ATF Press.
▓