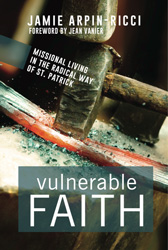 Vulnerable Faith by Jaime Arpin-Ricci is a treasure of a book. You could open it to any page and find something wise and profound, something that you could take years to really understand. It is a guidebook for the life of Christian discipleship. It uses the structure of Alcoholics Anonymous's 12 Steps program and the narrative of the life of St. Patrick to lay out a roadmap for what Christian discipleship should look.
The book opens with this quote from Craig Hovey: "The virtues necessary to be a martyr are no different from the virtues necessary to be a faithful Christian." Arpin-Ricci launches into the story of St. Patrick soon thereafter. Patrick, born in Roman Britain, grew up privileged and uninterested in the Christian faith of his family. He was kidnapped and made into a slave in Ireland. When his privilege and pride were stripped away, he was brought to rock bottom and became a committed Christian in the midst of difficult suffering. After dream from God, he managed to escape and return home six years later. It was resurrection, death out of life. His family received him with great joy. But God was not done with Patrick. He used another dream to call him to return to the land of his captors and bring them the Good News of Jesus. And so Patrick returned and entered into deep, loving relationships with the people who had oppressed him. The movement of the Gospel brought him such liberty that he was freed from his fears and able to lovingly see the humanity in the people to whom he reached. No longer could they be enemy: they were loved by God.
Arpin-Ricci beautifully weaves this narrative together with the 12 Steps of Alcoholics Anonymous. He told Patheos's Deborah Arca:
Years ago, while watching a popular TV show, it occurred to me that well we often see the church as the brunt of pop culture humour, we rarely see Alcoholics Anonymous treated with anything but respect. And while I could (sadly) think of many reasons why we Christians deserve such representation, I was moved by the fact that AA, a community of admitted addicts who have collectively declared their helpless could inspire the kind of response that I only hope my Christian community could inspire. One of key reasons AA is able to do this is because of their unwavering commitment to finding hope in and through vulnerability.
What would it be like if churches were places where we each committed to walk a path of recovery? Wouldn't the result be the beginnings of ontological healing? Wouldn't the authenticity of our faith shine through in powerful ways? Wouldn't our witness be as powerful as that of a martyr?
This is not the first time I have read a book that integrated the language of the recovery movement with the language of Christian discipleship. Another book that does this beautifully is From Bondage to Bonding by Nancy Groom. I still remember reading that book very, very slowly because its truth was rich and deep and…painful. Vulnerable Faith struck me the same way. It forces the reader to face up to the pretense and fear that drive us far away from authentic relationship and community. The author points out that we are, most of us, controlled by our fear of death, whether that be literal physical death or the fear of rejection. We go along to get along, instead of doing the harder work of being known as we really are. Arpin-Ricci points out that fear and sin have disrupted "four fundamental relationships" in our lives: with God, with other people, with ourselves, and with creation. I appreciated his focus here–and throughout the book–on more than just the "Jesus and me" manner of religion. Rather, he shows how cosmic and ontological our brokenness is. He shows how salvation is not just about dealing with our individual sin, but about needing healing in our relationship to creation, others, and God Himself.
Arpin-Ricci outlines the path of recovery from our pretense and fear, a path that involves the spare journey into the wilderness. It involves being willing to be uncomfortable in order that we might grow and change personally and in relationship to community. It involves allowing much of what calcifies around us and begins to form our identity to be challenged. This is like death itself. But as we walk through this process with Christ by our side, we begin to experience freedom from the fear of death. We learn to be present in the "now" with Jesus.
But Jesus does not call us to a self-centered life, but He frees us so that we might live our lives for others. When Patrick was freed from his pretense and pride, he became free enough to go back to the people who had enslaved him, to love and befriend them, and to show them the way to freedom.
Bringing us back full circle, Arpin-Ricci shows how a person who is free becomes someone who brings freedom to other people and to God's creation too. He emphasizes the "nowness" of God's kingdom and shows how when Jesus talked about God's kingdom, it was almost always in relation to restoration of the earth or of people now. "Shalom" (peace), biblically speaking, is not individual peace in your heart. It is a peace that reaches out to community, creation, world with restoration power and wholeness. It goes to broken things and heals them. It brings the end to oppression and slavery. Arpin-Ricci calls it "restorative justice."
This is a short but profoundly beautiful book. It's one of the best books I've ever read about the entirety of what it means to be a Christian. I believe it will challenge me for many years to come as I walk a path of recovery from pretense and fear. It inspired me mightily to grow in freedom and to share that freedom with others. You should read it too.
This post is written in partnership with the Patheos Book Club. I was given a pre-publication proof of this book for free in exchange for an unbiased review.
——————-
Community discussion guidelines:
Because this is a Christian blog, the things I'm talking about will obviously be topics that people feel strongly about in one direction or another. Please keep in mind that this is a place for substantive, respectful conversation. All perspectives are welcome to discuss here as long as all can treat each other with kindness and respect. Please ignore trolls, refuse to engage in personal attacks, and observe the comment policy listed on the right side of the page. Comments that violate these guidelines may be deleted. For those who clearly violate these policies repeatedly, my policy is to issue a warning which, if not regarded, may lead to blacklisting. This is not about censorship, but about creating a healthy, respectful environment for discussion.
P.S. Please also note that I am not a scientist, but a person with expertise in theology and the arts. While I am very interested in the relationship between science and faith, I do not believe I personally will be able to adequately address the many questions that inevitably come up related to science and religion. I encourage you to seek out the writings of theistic or Christian scientists to help with those discussions.
———————-