As one of the fastest-rising groups in Christian music, the three siblings that comprise the group CAIN have blazed a new trail with their contagious joy and memorable pop songs such as "Lazarus (Rise Up)," "Yes, He Can" and "I'm So Blessed." Their newest album, "Jesus Music," featuring a fun title track that weaves popular song titles into the lyrics, released last month and continues to carve out a fun path for Logan, Madison and Taylor.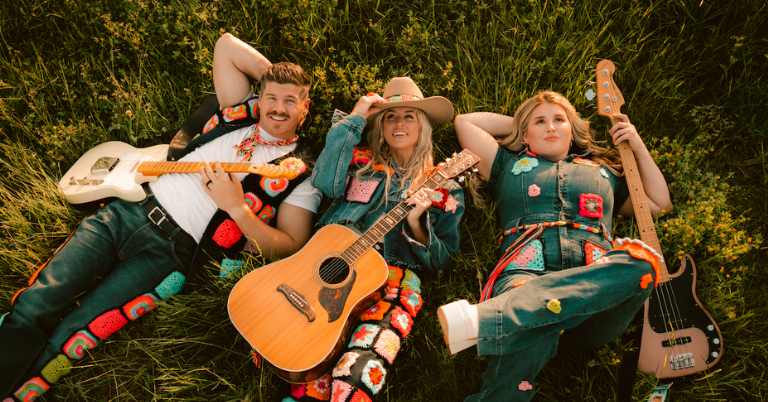 Taylor Matz Cain said the group's second album was a little more focused and deliberate, since their 2020 debut offered them more time to create.
"I'm so thankful for this second album," Taylor Cain Matz said. "For 'Rise Up,' the entire album, we had so much time to create it. We wrote over 100 songs in order to pick 10, and then for this one, our second, we're out here touring and raising a family, and you're just praying that you want it to be awesome and authentic."
Matz emphasized the importance of authenticity in their music, steering away from the pressure to write hits just for the sake of popularity. "I feel like each song means something special to us, and 'Jesus Music,' in particular, really started taking shape once we wrote that song," she added.
Reflecting on the inspiration behind "Jesus Music," she expressed gratitude for artists who unapologetically sing about their faith.
"I could never say thank you enough to all the artists that didn't try to water down their songs. They said we're gonna sing about Jesus, and we're gonna do it gladly and be proud of that," she said. She added memories her singing and dancing around in her house to the tunes of Amy Grant, Steven Curtis Chapman, and Michael W. Smith, artists who influenced her deeply. Chapman and Smith, along with Casting Crowns, Bart Millard, Mac Powell, Chris Tomlin, Matt Redman and Ben Fuller also appear in the video.
"It's just sometimes I wake up and I'm like, what kind of world, what am I living in? This is such a dream," she said.
When asked about the evolution of CAIN's sound and the decision to pursue music full time, Matz revealed that their signature three-part harmony didn't officially lock in until college. Despite growing up in a musical family where they often sang with their father on his tours, it wasn't until their college years that they discovered the magic of their harmonies while casually singing together.
"It wasn't until college that we were all just, we all shared an apartment there together, and as we were cleaning and folding laundry, we just started singing. And it was like, 'Oh, okay. That actually, that actually sounds pretty good, I think'," Matz said.
Their journey as a band took shape when they started performing at college events. Matz highlighted the importance of testing their music on the audience: "Once people ask you back, that's how you know, okay, it doesn't just sound good to us."
Matz highlighted the significance of staying connected to a community of like-minded individuals, emphasizing the band's boldness in singing about their faith. "When you're lost and then you're found, there's nothing better than that. Encouraging the body of Christ every night, I wouldn't trade that for anything," she concluded.
In the ever-evolving landscape of contemporary Christian music, CAIN's unwavering commitment to authenticity and faith continues to resonate, making "Jesus Music" a fitting testament to their journey and the profound impact of their message. The album is now available through streaming outlets.