It is often strange for professors and other researchers to look back on the calendar year and ahead at the one about to begin. Our rhythm follows the academic year, and so we would more naturally celebrance new year's day in August, and make resolutions then. It is nonetheless worth joining in with this calendrical event and reminding ourselves of things accomplished and experienced. Definitely the biggest life event of the past year was that my father passed away.
The Mandaean Book of John, funded for 4 years by the NEH and a total of about 9 years in the making, finally appeared. The new font, formatting the text in versified form, and many other aspects of it took longer than we expected. Related to that, I'm happy to say that I made the first concrete step towards starting a book project related to the historical John the Baptist, bringing the Mandaean sources into the picture, through a paper I presented at a conference in Romania last summer.
Eighth International East-West Symposium of New Testament Scholars
I wrote book chapters on Star Wars, Star Trek, and the relationship between alien abductions/UFO encounters and religious/mystical experiences. I also wrote several reviews, at least some of which I've drawn attention to here once they appeared in print. I've gradually started work on a collaborative project on theology and progressive rock. And there are other things in the pipeline. I blogged more than once about a book I hope to complete by next summer, to be titled What Jesus Learned From Women.
Presenting at Starbase Indy this year about gods on Star Trek provided a cool opportunity to meet Doug and Mary Piero Carey and Bill Sullivan in person. Mary offered a good definition of what isn't a god on Star Trek: "If Kirk can outsmart it, it isn't a god." I think that's worthy of becoming a meme: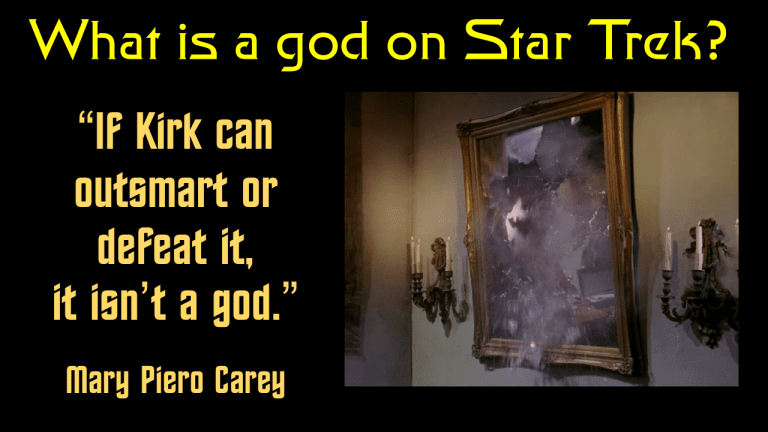 I presented at Spirit and Place about John Rutter's Requiem:
I also made a guest appearance at Bethany Seminary in Richmond, Indiana, and contributed to the Academic Minute podcast. There has also been a lot of administrative work related to the core curriculum, and I taught a Global and Historical Studies course that I hadn't taught in 13 years. I was delighted by the level of engagement from students in this 8 am core curriculum class, all the way through to their final website collaborative group projects.
As far as looking back on the most popular content of the past year on this blog, I'm glad that some posts from this year circulated widely. These were among the top 10:
Some of the posts that have gone viral in the past have continued to do well, life and/or tech hacks and troubleshooting guides on topics like squirrel baffles and Insignia television sets. A couple of posts related to the main focus of this blog have circulated again:
This one was popular again this Christmas:
Other than finally finishing blogging through classic Doctor Who, what else do you hope I'll do on the blog in the coming year?
To all readers of this blog, I wish you a very happy new year!