Guest post by Rebecca Hensler –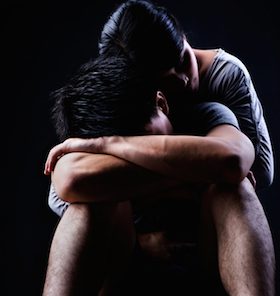 So much has been said regarding Sam Harris' recent statements that it is hard to imagine anyone having something new to contribute. What has been missing from these conversations is the same as what was missing from Harris' original comments about gender imbalance among (as he put it) "active atheists": any mention of the network of secular support that has grown within the atheist community, serving not only "the sort of people who go to atheist conferences, read atheist books, watch atheists debate pastors on YouTube, or otherwise rally around atheism as a political identity," but also the thousands of nonbelievers who previously shared no connection with the atheist movement whatsoever.
When Harris claims, "The atheist variable…doesn't obviously have this nurturing, coherence-building extra-estrogen vibe," he may be correct about the atheism of seven years ago, when he was dubbed one of the "Four Horsemen," but he displays his ignorance of the atheism of today. Now when you attend an "atheist conference," you are not only several times more likely to hear a female speaker than you were then, you are also more likely to hear a talk – by a man or woman — about the impact of skepticism and nonbelief on the emotional and personal lives of atheists.
We are no longer simply talking about what we think as skeptics and freethinkers — we are talking about how we feel, and creating structures in which to do so.
I don't mind that Harris has apparently never heard of my particular project, Grief Beyond Belief, a secular support network for bereaved nonbelievers. But it disturbs me that he also remains seemingly unaware of the Secular Therapist Project and the Hotline Project, as well as their parent organization, Recovering From Religion. And where, in the world of Harris' "active atheists," are the Secular Safe Zone, Secular Student Alliance, Parents Beyond Belief and Camp Quest, all of which provide support and community for atheist youth and their caregivers? Or the two best known secular recovery networks, Lifering and Secular Organizations for Sobriety? Or the growing network of Sunday Assemblies and the many Humanist Chaplaincies? Or the hundreds of Humanist and Secular Celebrants trained by the Humanist Society and by Center for Inquiry?
By defining "active atheism" as engagement in debate and dissent, attendance at conferences (which working-class and poor atheists typically cannot afford), and acceptance of atheism as a political identity, Harris demonstrates that he either discounts the support of other atheists as an atheist activity or he hasn't met the atheist community lately.
When Harris suggested that "a less "angry," more "nurturing" style of discourse might attract more women to the cause of atheism," he inadvertently exposed his own ignorance of the "nurturing" that has become available in the atheist community, and upon which thousands of atheists depend for support. But in implying that the nurturing tendencies supposedly missing from organized atheism are an innately female trait, he made a second mistake.
While women, such as 2013 Atheist of the Year Sarah Morehead, and CFI's Reba Boyd Wooden, direct some of the secular community's support projects, others are headed by men, including the Secular Therapy Project's Dr. Darrel Ray, Andrew Cheadle, who coordinates the SSA's Secular Safezone project, and Dale McGowan, who co-hosts the Parents Beyond Belief blog, which facilitates communication among secular families and secular parenting groups. To the credit of the movement, secular support does not appear to be considered women's work.
It would be disingenuous of me if I neglected to acknowledge something Harris got right, however accidentally: At least in the case of Grief Beyond Belief, secular support has brought hundreds, if not thousands of women into contact with organized atheism, often for the first time. Online grief support in general trends heavily female, and Grief Beyond Belief is no exception.
Unlike Harris, I will not make foolish, unsubstantiated guesses about the cause of the gender imbalance of my own project's audience. Sometimes it is okay to just stop and notice and think without jumping to conclusions or getting defensive. I am simply glad that GBB has helped bring atheist women from isolation to community; I'm not going to assume that other secular support projects will have the same effect.
I do know one thing: If we want a woman who is attracted to the atheist community by the availability of secular support to join the atheist movement as well, we will treat that woman with respect. Greeting her with weak estrogen jokes and pop psychology is not going to help.
About Rebecca Hensler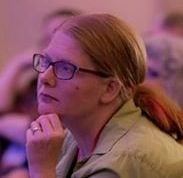 Following the death of her infant son, Rebecca Hensler discovered that most online grief support groups are dominated by religion and spiritualism. Alienated by talk of angels, heaven and signs, she founded Grief Beyond Belief, a faith-free grief support network. Rebecca is a school counselor with a BA in political activism and a MS in counseling. She currently lives in the Bay Area.