[Back to Part 1: Listening to the Anti-Theists] [Part 3: The final roundtable]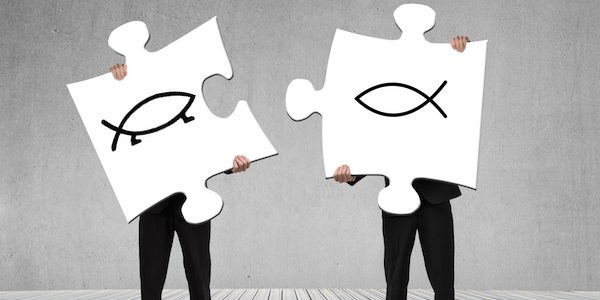 Part 2 hands the mic to Steve Neumann and James Croft, Patheos Atheist bloggers who identify as diplomats in their approach.
Why do you take the "diplomat" approach in terms of religion and atheism? Why do you think it's the best approach?
JAMES CROFT: In my work as a Humanist activist, I am interested in what works. I want to spread Humanist values and reduce the cultural power of anti-Humanist values. And all the evidence from psychology and cognitive science shows that a friendly, open, funny, yet authoritative approach works better than one seen as aggressive or furious.
STEVE NEUMANN: That's exactly right. It's self-evident to me that rudely attacking someone's religious beliefs is not only ineffective at getting them to consider your arguments, but very effective at creating a backlash effect whereby the religious believer's deepest convictions and beliefs only get stronger. And as James said, there's more than enough evidence to support this.
JAMES: This doesn't mean that we're always sunshine and roses, of course. Sometimes you have to be more forceful than friendly – that's just good strategy. I like the term "diplomat" because good diplomats know how to shift their approach in different situations, and understand that no one way of communicating is appropriate in every situation.
STEVE: I'd add that despite individual deconversions here and there, the firebrand approach to discussing religion feeds the stereotype of atheists as angry and arrogant contrarians. Perception is reality for most people, and a better approach to discussing religion would be to change that perception.
What do you see as the difference between your approach to religion and the religious, and the approach of anti-theists/firebrands?
STEVE: The line between a firebrand and a diplomat is sometimes blurred. Passionate argument isn't the problem. Being a passionate advocate for something has a greater effect on one's listeners than an abstract, detached approach. But when that passion tilts toward arrogance and ridicule, you've lost your audience. When a firebrand attacks a believer's beliefs as silly or stupid, the reality is that they are attacking the believer as silly and stupid, even if they explicitly claim they're not. Again, perception is reality, and I think diplomats understand this fact of human nature better than firebrands.
JAMES: Anti-theists often seem to display an over-sensitivity to religious oppression and an under-sensitivity to oppressions not based on religion. They often see religion as an automatic problem, rather than as a complex array of interconnecting social forces that can have both positive and negative consequences. If the rallying cry of the anti-theist is "religion poisons everything", then I think my response would be "religion poisons some things, and may make others sweeter." Diplomats see the task as untangling the good from the bad, while anti-theists tend to see the task as dismantling religion wholesale.
What are the most persistent misconceptions about the diplomats?
JAMES: That any friendly engagement with religious people, or any attempt to make common cause with religious groups, is capitulation. That we are afraid of identifying openly as atheists. That we so love religion that we want to be held in its sweet embrace. That our position is rooted not in an ethical commitment to civil dialogue, nor a pragmatic commitment to successful social change, but in a desire to pander to religious communities whose indulgences we crave.
STEVE: I'd add the idea that we somehow aren't committed to truth. There's this notion that by not pouncing on every false belief and trouncing it into submission, we're not "real atheists."
What do you object to most about the anti-theist approach?
STEVE: What I object to is the approach itself! I think it's counterproductive to all of the goals of movement atheism: the deconversion of believers, the social and political acceptability of atheism and atheists, and advancing other social justice-related goals like feminist, minority, and LGBTQ issues.
JAMES: I find the approach most objectionable when it demeans and denigrates religious people or other atheists who take a different approach. Any activism that sees as its goal the emancipation of people must prize the dignity of people above all. Our atheist discourse doesn't always do that, and that's when I strenuously object to the anti-theist approach.
Can you describe expressions of the diplomat approach that you felt went too far in the direction of religious accommodation or were otherwise counterproductive?
JAMES: Absolutely. Interfaith Youth Core Founder Eboo Patel, while not an atheist, is definitely an arch-diplomat. In a recent article, he defended the Ultra-Orthodox Jewish people who have been refusing to sit next to women on airplanes. This strikes me as capitulation to religious privilege borne of a mistaken notion of what respect for religious people means. There can be a fine line between attempting to be likable and pandering, and this crossed that line.
STEVE: I would say that never criticizing religious beliefs and practices would be wrong, because there is prejudice and discrimination that needs to be eradicated. I'm not advocating refraining from all criticism of religion and religious believers; I'm advocating for the most propitious approach.
What do you see as the atheist end game? What kind of future should we be trying to bring about?
JAMES: I'd like everyone to get on the same page about reality, and I think the most accurate picture right now is the one provided by atheistic materialism. But that's less important to me than helping everybody learn to respect our right to ask the question, to respect reason and evidence as the way of addressing the question, and respect the fundamental rights of all as they do so. So I'm working toward a good world more than a godless one.
STEVE: Different atheists have different end games in view, but the future I envision includes a pluralistic society with a secular government — a global community committed to inquiry, dialogue, equality, and environmental stewardship.
[Read Part 1,
Listening to the Anti-Theists
] [
Part 3: The final roundtable
]
---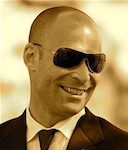 STEVE NEUMANN is a writer and philosophile interested in doing for philosophy what science journalists do for science—preparing the arcana of academia into a dish digestible by the public.
His work has appeared in media including the New York Times, Salon, the Daily Beast, and the Good Men Project.
Steve blogs at Notes Toward a New Chimera at Patheos.

JAMES CROFT is a prominent Humanist activist and speaker, as well as a leader in training in the Ethical Culture movement. His forthcoming book The Godless Congregation (with Greg Epstein) is being published by Simon & Schuster.
He holds an M.Ed in Arts in Education from Harvard and an MA in Education from the University of Cambridge.
James blogs at Temple of the Future at Patheos.