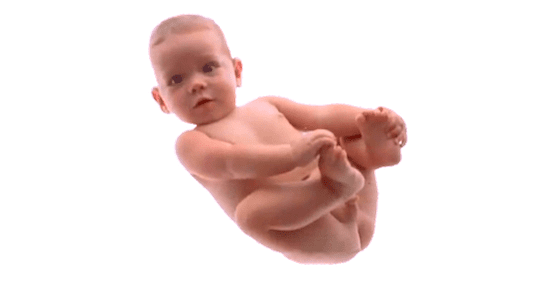 It is an interesting and demonstrable fact that all children are Atheists, and were religion not inculcated into their minds they would remain so…[T]here is no religion in human nature, nor human nature in religion. It is purely artificial, the result of education, while Atheism is natural, and, were the human mind not perverted and bewildered by the mysteries and follies of superstition, would be universal.

ERNESTINE ROSE, "A Defence of Atheism" (1861)

 
Boy do we seculars love a quote like that. It says our atheism is just a return to our natural condition, a rejection of something artificial blown into our heads by human culture. But that's a little misleading.
It's obviously true that we are born without religious belief. But this equates to what is called weak or negative atheism, the simple absence of belief in a god or gods. What about the other major assertion there — that without inculcation, the absence of belief would remain?
This gets at the very basic question of what religion is. The Rose quote implies that it's a cultural construction, pure and simple. But if Ernestine Rose was right and atheism is so damn natural, why is religion so globally dominant? And why is the inculcation of religion received so eagerly and pried loose with such difficulty?
I've spent years chasing this question through the work of EO Wilson, Pinker, Boyer, Dennett, Diamond and more. The result has made me less angry and frustrated and more empathetic toward the religious impulse, even as I continue to find most religious ideas both incorrect and problematic. It has deeply informed my secular parenting in a very good way.
Thinking about religion anthropologically has made me a better proponent of my own worldview, a more effective challenger of toxic religious ideas, and a much better secular parent.
Why we are the way we are
If you want to understand why we are the way we are, there's no better place to look than the Paleolithic Era (2.4 million years ago – 11,000 years ago). Over 99.5 percent of the history of the genus Homo — 120,000 generations — took place during the Paleolithic. For the last 10,000 of those generations, we were anatomically modern. Same body, same brain.
The brain in your head was evolved in response to conditions in that era, not this one. The mere 500 generations that have passed since the Paleolithic ended represent a virtual goose egg in evolutionary time.
To put it simply: we are born in the Stone Age. Childhood is a period during which we are brought — by parenting, experience, and education — into the modern world. Or not.
So if we were evolved for the Paleolithic, what was it like then? In short, it sucked to be us.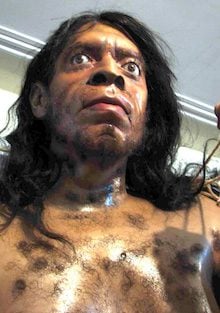 The hominid population in the Lower Paleolithic (starting around 2.4 million years ago) is estimated to have been around 26,000. Earth's climate was affected by frequent glacial periods that would lock up global water, leading to severe arid conditions in the temperate zones and scarce plant and animal life, making food hard to come by.
The average hominid life span was about 20 years, due mostly to high child mortality. We lived in small bands competing for negligible resources. For two million years, our genus was balancing on the edge of extinction.
Then it got worse.
In the Middle Paleolithic, a supervolcano erupted in what is now Lake Toba in Indonesia. On the Volcanic Explosivity Index — with categories apparently named by a seven-year-old boy — this eruption was a "mega-colossal," the most catastrophic kind. Earth was plunged into a volcanic winter lasting at least a decade. The human population dropped to an estimated 5,000-10,000 individuals, each living what had to be a terrifying, marginal existence.
These humans had the same thirsty and capable brain you and I enjoy, but few reliable methods for filling it up. The most common cause of death was infectious disease. If somebody was gored by a mammoth, you could figure out how to avoid that in the future. But most people died for no apparent reason. Just broke out in bloody boils, then keeled over dead.
Imagine how terrifying such a world would be to a mind fully capable of comprehending the situation but utterly lacking in answers, and worse yet, lacking the ability to control it. It's not hard to picture the human mind simply rebelling against that reality and creating an alternative in its place, neatly packaged for the grateful relief of subsequent generations.
The first evidence of supernatural religion appears in the Middle Paleolithic.
Religion solves our central problem: that (to quote Jennifer Michael Hecht) we are human and the universe is not. It's not really about explanation. It's about seizing the controls, or at least imagining that we have. To be fully conscious of our frailty and mortality in a hostile and indifferent universe and powerless to do anything about it would have been simply unacceptable to the human mind. So we created powerful beings whom we could ultimately control through prayer, sacrifice, behavior changes, ritual, spinning around three times, what have you.
Conservative, traditional religion is a natural response to being human in the Paleolithic. Whether it was a good response or not is beside the point — it was the only one we had.
But we're not in the Paleolithic anymore, you say. You certainly have the calendar on your side. We began to climb out of our situation about 500 generations ago when agriculture made it possible to stand still and live a little longer. Eventually we had the time and security to develop better responses to the problem, better ways of interrogating and controlling the world around us. But the Scientific Revolution, our biggest step forward in that journey, was just 20 generations ago. Think of that. It just happened. Our species is still suffering from the post-traumatic stress of 120,000 generations in hell. And like the battle veteran who hits the dirt when he hears a backfiring car, it takes very little to push the Paleolithic button in our heads.
Yes, your kids are born without religious belief. But they are also born with the problem of being human, which includes a strong tendency to hit the dirt when the universe backfires. One of the best things a secular parent can do is know that the Paleolithic button is there so we can help our kids resist the deeply natural urge to push it.
Baby screenshot via YouTube; early hominid reconstruction via Wikimedia
---
DALE McGOWAN is the author of Atheism for Dummies  and Raising Freethinkers. He lives in Atlanta.