Remember Robert Fulghum's book All I Really Need to Know I Learned in Kindergarten ? Life seems so complicated, but he boils it down to a few elementary principles on how to live, what to do, and how to be.
Like life, all you really need to know for the foundation of a healthy marriage, you learned in kindergarten.
Here's some kindergarten wisdom for marriage: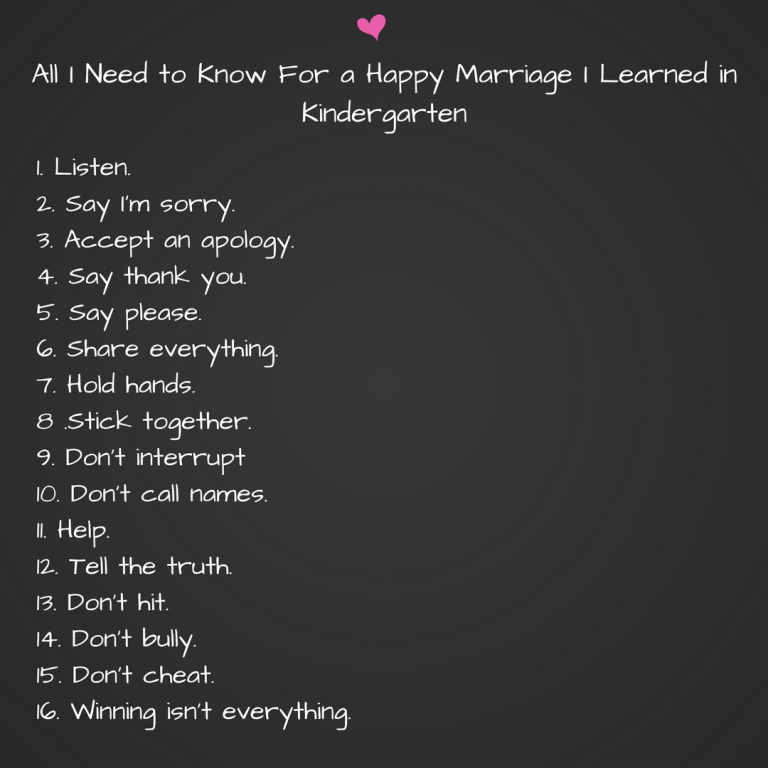 Years ago, children learned about God in school. Even though kids aren't taught about God in school today, a relationship with Him should be at the top of the list for any healthy marriage.
What would you add to this list?
Need skills to build intimacy?
---
Subscribe to updates from The Not So Excellent Wife here!
Also known as the Not So Excellent Wife, Sheila Qualls understands how tiring a tough marriage can be.
She went from the brink of divorce to having a thriving marriage by translating timeless truths into practical skills. She's helped women just like you turn their men into the husbands they want.
After 33 years of marriage, she's a coach and a speaker whose passion is to equip women to break relationship-stifling habits and do marriage God's way. And you don't have to be a doormat to do it.
She and her husband Kendall live in Minnesota with their five children and their Black Lab, Largo.
In addition to coaching, Sheila is a member of the MOPS Speaker Network. Her work has been featured on the MOPS Blog, The Upper Room, Grown and Flown, Scary Mommy, Beliefnet, Candidly Christian, Crosswalk.com, The Mighty and on various other sites on the Internet.