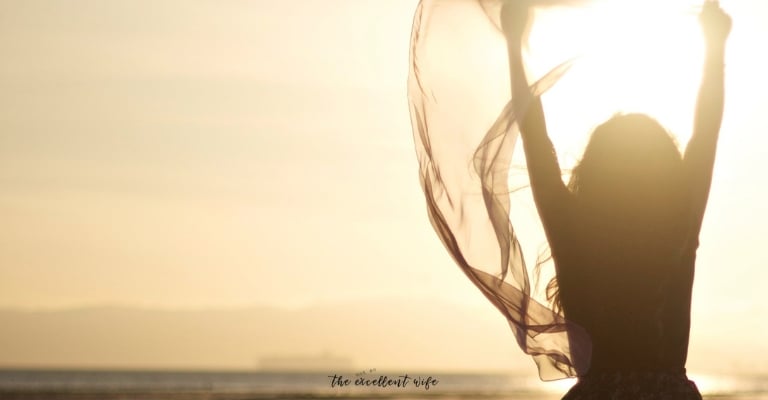 Hard circumstances and marriage have something in common. One hundred percent of marriages go through hard times. And hard circumstances can tank your marriage.
You may remember the story of how my fiancé dumped me months before the wedding. Imagine how that experience crushed me. It affected my trust barrier. It affected my self-esteem and my self-worth.
And it affected my relationship with my future husband.
He had it bad because for years. I was lost in a maze of deep-seated feelings of inadequacy, doubt and rejection. I felt like I was never enough.
I wanted to connect with him, but I was afraid. I thought if he really knew me, he might see that same thing my fiancé had seen in me.
I felt unworthy and unlovable.
When I'm in a hard circumstance, I want to focus on my circumstance.
Or worse, I put expectations on my husband. I view my interactions with him through my experiences.
We all do it. We're human. I either end up thinking he'll treat me the same way someone else treated me in the past or I expect he'll be able to do things that will make me feel better about myself.
Neither is good.
I've learned I can respond to my circumstances in a way that's not harmful to my marriage. No matter what the experience, we can learn to respond to it in a way that's honoring to God.
We all enter marriage with a ton of emotional baggage, whether we want to or not. No one enters marriage with a clean slate.
When we view past experiences through our own lens instead of viewing it God's way, we never fully recover from a bad event. Then past events impact current relationships.
Maybe you're guilty of it, too.
In addition to knowing what it's like to have my fiancé bail months before the wedding, I KNOW what it's like to be in a difficult marriage and to lose a job and to have financial STRUGGLES. I know what it's like to be in a car accident that almost destroys my family and leaves me to raise a child with a BRAIN injury.
I know what it's like to have a hard relationship with my mother and to have daddy issues.
First let me say, some of you are in circumstances I've never even come close to experiencing, so I'd never presume to tell you what to think or how feel in those circumstances. I can't speak to those exact circumstances because I haven't lived them.
I do know when you're already carrying around baggage and you add some more to it, it can become too heavy to carry.
When I focus on my circumstance, every aspect of my life is affected. And my husband usually gets the worst of me.
I can't control what happens to me, but I can control how I respond to it.
In my own circumstances, I've come to realize I can learn to respond to them differently, in a more God-honoring way.
The way we view life is the way we do life
Unfortunately, you can't go through life without disappointments and failures. But we can learn how to respond to them. It's a matter of interpretation. Interpretation of circumstances is totally up to you.
How I view and respond to disappointments determines my ultimate happiness and success.
My guy didn't want to marry me.
As disappointing as it was, there wasn't a thing I could do about it. Either I could consider myself a
loser
(because I sure felt like one) or I could to re-frame the disappointment and put it into some kind of perspective that would allow me to move forward. I could learn to interpret my experience in a way that wouldn't harm my marriage.
Interpretation not only helps keep disappointment in perspective, but it also dictates recovery. We can put the experience into perspective in the big picture of our lives. Our whole life. Not one moment in time.
That's the difference in those who survive and those who thrive.
I didn't learn how to handle my circumstances until after they had damaged my marriage. Thankfully, not beyond repair.
Hard to believe, but that painful experience is now a memory and has no significance in my life. Of course at the time, I didn't feel that way. Over time, I realized that experience is just one of many, many experiences in the overall scheme of my life, and it isn't the experience I was going to let define me.
I know the plans I have for you," declares the LORD, "plans to prosper you and not to harm you, plans to give you hope and a future."–Jeremiah 29:11.
I'm not a victim of my circumstances. Neither are you.
What's a new view you can take on your circumstances?
Need skills to build intimacy?
---
Subscribe to updates from The Not So Excellent Wife here!
Also known as the Not So Excellent Wife, Sheila Qualls understands how tiring a tough marriage can be.
She went from the brink of divorce to having a thriving marriage by translating timeless truths into practical skills. She's helped women just like you turn their men into the husbands they want.
After 33 years of marriage, she's a coach and a speaker whose passion is to equip women to break relationship-stifling habits and do marriage God's way. And you don't have to be a doormat to do it.
She and her husband Kendall live in Minnesota with their five children and their Black Lab, Largo.
In addition to coaching, Sheila is a member of the MOPS Speaker Network. Her work has been featured on the MOPS Blog, The Upper Room, Grown and Flown, Scary Mommy, Beliefnet, Candidly Christian, Crosswalk.com, The Mighty and on various other sites on the Internet.